1 in 10 Men Experience This Body Image Disorder, So Why Aren't We Talking About It?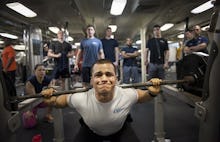 Women have been speaking out about the pressure to meet a nearly unattainable body image standard for years. While this conversation is crucial, men suffer from negative body image, too. In fact, there's a unique body-image struggle that disproportionately affects men: It's called muscle dysmorphic disorder or "bigorexia," and as many as 1 in 10 men in training gyms in the U.K. may experience it, according to one new study the BBC reported last week. 
Muscle dysmorphic disorder is a "form of body image disturbance in men" that involves "a preoccupation with the idea that one's body is insufficiently lean or muscular," according a report in a 2005 issue of the journal Body Image. The phenomenon was originally called "reverse anorexia," Leigh Cohn, president of the National Association for Males with Eating Disorders, told Mic, because of its similarity to the way those living with anorexia are unable to conceptualize how thin they actually are. Instead, individuals with muscle dysmorphic disorder see themselves as weak or not muscular enough, no matter their actual appearance. 
So what factors influence bigorexia? Many of the same factors that may increase the risk of individuals developing anorexia — as well as some unique ones, according to Cohn.
Media sexualization and objectification: "Men are getting a dose of the same medicine that women have been taking for years," Dr. Harrison Pope, Jr., co-author of The Adonis Complex: The Secret Crisis of Male Body Obsession, told Health Central. "They are seeing impossible images of male perfection in photographs and magazines, and being told that this is what they have to look like."
This idealized male body type is "generally muscular but lean" Cohn explained to Mic, and comparable to the idolization of a female body type that is "very thin and also voluptuous at the same time." This standard, Cohn added, "is nearly impossible and yet it's what men are striving for" thanks in no small part to the increased sexualization and objectification of men's bodies in the media. 
"The media has become more of an equal opportunity discriminator," Raymond Lemberg, a Prescott, Arizona-based clinical psychologist and an expert on male eating disorders, confirmed in 2014 for the Atlantic. "Men's bodies are not good enough anymore either."
Gym mentality: Because MDD or bigorexia is a form of Obsessive-Compulsive Disorder, the disorder may emerge as part of one's larger obsession with weight training and body building. The disorder may be rooted in an innocuous attempt to be fit, Cohn said, but may evolve into an individual becoming "competitive somehow with what other people are doing in terms of their work out" or as a physical routine intended to "soothe emotional distress."
It's an obsession 25-year-old Pradeep Bala knew well.
"I would go about my day in silence, just wake up do the work I had to get done, training, sleep that's it," Bala told the BBC last week. "I would feel I need to completely block my social life out. To make sure that until I am mentally satisfied to some degree, only then would I feel some self-worth to then go talk to people."
It's a type of mental obsession that may evolve into physical behaviors. One 2012 study, for example, found that more than a third of middle- and high school-aged boys in the Minneapolis-St. Paul, Minnesota, area reported consuming protein powders or shakes to boost their muscularity, about 6% reported using steroids and 10.5% said they use another muscle-enhancing substance.
Masculinity standards. Strictly adhering to masculine gender roles is significantly evident among muscle dysmorphia sufferers, according to one 2013 study published in the Journal of Eating Disorders. Individuals experiencing muscle dysmorphia included in the study reported "significantly greater adherence" to masculine gender roles as compared to those living with anorexia included in a correlating control group.
This adherence to masculinity may be evident specifically in teasing, which Cohn has observed is a contributing risk factor for MDD. Childhood teasing related to one's body, he told Mic, can lead "to a thought process that becomes, 'I have to lose weight or I have to bulk up.'" Those who are teased may feel a need to prove themselves, to "show the world, nobody is going to call me that again or treat me that way again," he added.
While there's still a widespread misconception "that men don't get eating disorders, that men don't worry about their bodies, that men don't have insecurities about their looks or their sexuality," Cohn said, the solution may be found in starting a conversation.
It's time to end "any stigma that [men] may have in thinking that the problems they have are not problems men get or men should have," Cohn said. "Men do have serious issues that need to be explored."