Google Pixel C Tablet: Size, Release Date, Price and Features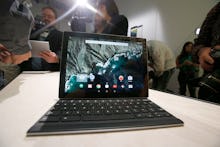 Google unveiled a number of new devices at its Nexus hardware event in San Francisco on Tuesday, including the Nexus 5X and Nexus 6P smartphones and the new Chromecast. However, Google's latest tablet, the Pixel C, stood out from the pack. 
The C, which stands for convertible, perhaps describes the Pixel's most alluring feature. The tablet can come with a detachable keyboard that serves triple duty: a keyboard, a kickstand for the tablet when not in use and a screen cover. The keyboard is sold separately but isn't required for using the tablet.
It's unclear when the device will officially hit shelves, but it could surface before the year's end, the Wall Street Journal reports. What's certain, according to what the Pixel team's director of product management Andrew Bowers told the Wall Street Journal, is that we can "expect to hear more about the Pixel C in the coming months." 
That keyboard, though: In a blog post, Google touted the keyboard's design strengths. "The Pixel C brings together the benefits of a full-size keyboard with the portability of a tablet," Google said. "The tablet and keyboard attach magnetically [with no docking mechanism], so it's easy to switch between typing and using the touch screen."
When connected to the Pixel C, the keyboard charges automatically via induction, or wireless, charging, according to the Wall Street Journal. The keyboard can hold a charge for up to two months when disconnected from the tablet. 
Specs and pricing: Google's new tablet runs an Android operating system and is powered by a Nvidia Tegra X1 eight-core processor with 3 gigabytes of memory, CNET reports. The Pixel C boasts a 10.2-inch screen.
The tablet is equipped with stereo speakers and a microphone for voice commands. While the model doesn't have a slot for SD cards, it has one USB Type-C port. The Pixel C starts at $499, according to the Wall Street Journal, but the keyboard will be sold separately for an additional $145.