The Future of Air Travel Is a "Netflix and Chill" Mile-High Club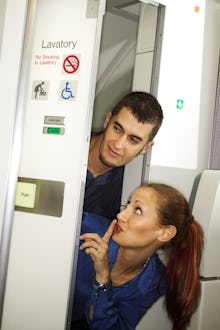 Netflix and chill just got a lot higher. 
On Tuesday, Virgin America announced a brand-new partnership with Netflix, the result of which is good news for TV and movie lovers everywhere: Customers flying on Virgin's new ViaSat Wi-Fi-enabled planes will now be able to stream all of Netflix's content, including original programs like House of Cards and Orange Is the New Black as well as other popular titles.
The best part? The perk comes at no extra cost to existing Netflix customers. (New users can simply sign up for Netflix's 30-day free trial in order to gain access.)
The streaming capabilities are enabled by ViaSat, a satellite broadband provider whose services Virgin touts as being "eight to 10 times faster than any other onboard Wi-Fi system, with the freedom to watch and now stream online directly on any connected device when in-flight." The complimentary program will run until March 2, 2016. (There's no word yet on what will happen to our mile-high Netflix binges — or their prices — after that.)
Given how many people count themselves among Netflix's customer base — the company announced it had 65.6 million subscribers in July — the new partnership will likely be welcome news to millions of flyers.
However, because Netflix hasn't added offline streaming support to its services, customers still won't be able to access their favorite content without an Internet connection. 
As the Verge put it, "Promoting faster Internet in one of the most common places where people clamor for offline Netflix is smart, but it won't end the call for an easier way to access the world's leading video subscription service when you're not connected to the web."
Virgin itself is no stranger to unusual yet admittedly useful airline advantages. As a press release noted, their planes are the "the first (and still only) U.S. airline to offer Wi-Fi on every flight and power outlets at every seat." In other words, you never have to worry about running out of binge-watching juice on that 23-hour-long flight to Australia. 
Oh, and we won't blame you if you decide to get it on in the bathroom afterward, too. 
h/t Mashable