Bernie Sanders Campaign Announces It's Collected 1 Million Total Donations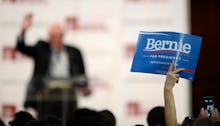 Supporters are burning through their pockets to back Sen. Bernie Sanders' upstart bid for the Democratic presidential nomination.
Hours ahead of Thursday's quarterly fundraising deadline, the Vermont independent's campaign revealed on Wednesday it had surpassed 1 million donations since Sanders entered the race five months ago.
The campaign first made the announcement on Reddit, home to a community of more than 113,000 fans, activists and organizers on the subreddit /r/SandersforPresident. The news came with a late push to bring in more small-dollar donors.
"Team Reddit," the campaign wrote, posting from its official account. "We've just reached our goal of 1 million online contributions. There's still 12 hours to send a powerful message about the strength of our movement before tonight's midnight ET deadline."
In the first two months of his campaign, ending on the June 30 quarterly deadline, Sanders raised in excess of $15 million. The average contribution then was $33.51. In a pair of emails sent on Wednesday afternoon, the campaign asked for supporters for $24.86, "the average donation we've received in the past week."
"Today is a very important day for our political revolution," Sanders wrote in a Facebook post Wednesday. "We have a chance to send an unmistakable message about the size and strength of our campaign to the billionaire class." 
What's driving it: Sanders is the only 2016 candidate to refuse the support of any outside or independent expenditure groups. In mid-September, his campaign raised more than $1 million after an official from a super PAC aligned with Hillary Clinton compared Sanders to the late Venezuelan President Hugo Chavez in an email to the Huffington Post. 
The implicit attack — Sanders is a self-described democratic socialist — led to a frenzy of new contributions.
"Frankly, what the Clinton super PAC is doing is nothing new," Sanders said in an email from the campaign. "It's the same-old, same-old negative politics that has gone on for years: Throw mud and hope some of it sticks."
Despite its successes, Sanders is still being significantly outpaced by the Clinton campaign's more advanced infrastructure. She raised more than $47 million during her first 81 days on the trail, ending with the second quarter reporting deadline. The campaign said 91% of donations were for $100 or less.
Candidates are required to file their fundraising records to the Federal Election Committee every three months. The deadline for the third quarter is Thursday at midnight.