Here Are All the Insults Voters Are Using to Describe Donald Trump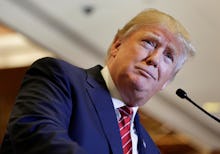 "Idiot. Jerk. Buffoon. Narcissistic."
These are some of the most common words voters use to describe Republican presidential front-runner Donald Trump, according to a new poll from Suffolk University and USA Today released to the media Wednesday.
Pollsters asked 1,000 likely voters what one word they would use to describe the real-estate billionaire. Unfortunately for Trump, the results confirm his well-documented track record of offensive statements and mean-spirited remarks resulted in many voters determining they'd like to throw those insults right back at him.
Nearly 10% of voters called Trump an "idiot," "jerk," "stupid," or "dumb," while 6% chose "arrogant." An additional 5.6% called him "crazy" or "nuts," and 4.7% chose "buffoon," "clown," comical," or "joke." Other popular terms included "egotistical," "showoff," "blow hard" and "dislike."
Some 21.7% of respondents gave answers categorized as "other" or some variant of a non-answer. But 52.1% used some kind of insult to describe Trump. The poll also found that Trump, at just 27%, had the lowest favorability rating of any candidate.
Despite all the negative words associated with Trump, he's still the leading GOP candidate with 23% of the votes for those planning to vote in the GOP primaries. Neurosurgeon Ben Carson and former Hewlett-Packard CEO Carly Fiorina tied for second at 13% each, while Florida Sen. Marco Rubio earned 9% of the vote, Florida Gov. Jeb Bush got 8% and Texas Sen. Ted Cruz took 6%. 
Of course, one might argue there is a silver lining here for the Trump campaign: Apparently, no one's calling him a "loser."