Meet 'Hannah,' the Magazine That Wants to Make Women of Color a Priority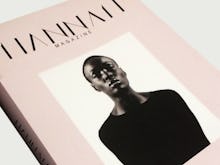 This fall has been a hallmark season for women of color on the covers of nationally renowned magazines. Beyoncé nabbed Vogue. Serena Williams took on New York. Kerry Washington looked strong on Self. Misty Copeland showed off for Essence. Willow Smith looked fresh on the front of i-D. Queen Latifah rocked Variety. Ciara hit up Shape. And Amandla Stenberg got Dazed, with Angela Davis' words painted on her face, no less. 
But the problem is, it's been a hallmark season for a reason: Magazines don't usually feature so many women of color on their covers. In fact, they typically barely feature them at all.
Hannah, which is currently being funded on Kickstarter, is a magazine that wants to put black women first. 
For founder Qimmah Saafir, the idea sprouted from a frustration that mainstream magazines just weren't covering celebrities of color, not to mention "real" noncelebrity women of color, to the full tilt. 
"It really jump-started after a conversation I had with someone I respected who said, 'No one really cares about black women,'" Saafir told Mic. "I had the idea swimming around in my head, and I knew the need for it but there wasn't a fire under me for it. As people continued to insult us and agree that there was a void in the industry, that's when I started telling my close friends about the idea."
There are publications like Essence and Ebony that have been highlighting women of color and covering issues that affect them for decades. But Saafir noticed a gap. 
"The world is changing, and we're this huge melting pot and we're all of these different backgrounds. But it's always been a struggle to find that in publications," Saafir said.
In a video posted to Hannah's Kickstarter and website, model, actress and Hannah supporter Joy Bryant emphasizes the point further, saying, "We need to have Essence and Ebony, [but] we need to have other things too. We're not this monolithic group of people that just think the same, dress the same, eat the same, shit the same, wanna be the same." 
A more diverse set of interests: Saafir, who has more than a decade of experience writing and editing for magazines, is currently using Hannah's website as a testing ground. There's an interview with Rosario Dawson, where she talks about creating fashion for social change and another with the founder of the sustainable home design brand needle+thraed, Celia L. Smith. 
There's also a spread on how D'Angelo may just be the modern-day Marvin Gaye, a Q&A with filmmaker Nzingha Stewart and advice from Bergdorf Goodman social media beauty director Felicia Walker Benson. 
The goal, Saafir said, is to create a magazine that bounces from discussing hair fads and beauty regimens to a feature about a black entrepreneur and then a celebrity interview. She wants to tackle not only what's expected of a women's magazine (fashion and beauty), but incorporate technology, innovation and politics as well, all of which she's personally interested in.
"I've created Hannah with me in mind," she told Mic. "I feel like I'm a well-rounded person, and I think lots of black women are. This magazine would be for those women who just want to read stories that interest them, that excite them, beyond what they're used to seeing." 
A more nuanced representation: In embracing a diverse set of interests, Saafir also wants to propel the conversation around black women beyond hair or skin or attitude. 
"I really feel like the misrepresentation of black women in media has run rampant," she said. "We're always depicted as the same type of person. We're seen as these sassy, one-dimensional caricatures, and we're so much more."
That misrepresentation is only more likely when women of color are left out of mainstream magazines or when their representation is limited to two or three celebrities (oh hey, Beyoncé and Rihanna). That dearth of diverse examples limits what other readers perceive about black women — as well as how women of color, particularly young girls, see themselves. 
"European standards of beauty are something that plague the entire world — the idea that darker skin is not beautiful, that light skin is the key to success and love," Academy Award winner Lupita Nyong'o told Glamour. "Until I saw people who looked like me, doing the things I wanted to, I wasn't so sure it was a possibility."
Shining a light: The name "Hannah" is sentimental for the Bronx native, as it references her father's word for the sun. "I wanted the magazine to have this personal connection to me, and I liked the idea of referencing the sun because what I want to do, explicitly, is shine a light on women of color," she said. 
And by shining a light on women of color, Saafir is doing her part to create an inclusive community for women who need one. 
"I received this email from this girl that said, 'I'm alone at this university, and I go to Hannah magazine to feel like I belong to something,'" Saafir said. "And honestly, if no one else appreciates that magazine but this one woman in college, the rest I don't care about. That's what the point of it really is: to create this community online for women."
If fully funded, Hannah will be issued biannually as a print magazine this spring as well as an online publication, which will launch on a new site this coming fall. 
At time of writing, Hannah has just four days left to fulfill their fundraising goal of $30,000. So far, they have just over half of that amount. If not fully funded, Saafir said the print publication will be in jeopardy, but there are pieces ready to roll out online. The bigger goal, regardless of funding, is fostering a community of creative women. 
"I want it to be a brand, not just a book," she said. "I enjoy the way that there's this culture. I want it to be used as a tool for connectivity and understanding. I really did not expect so many people to connect with it, so I think it says a lot about what we're missing."