Video of a Gay Man Proposing to His Boyfriend on Subway Has Gone Megaviral in China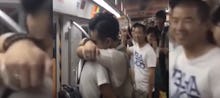 Is China about to embrace same-sex marriage? 
It's not likely. But new video showing a Chinese man proposing to his boyfriend on the Beijing subway is giving LGBT people around the country reason to smile. 
"I want everyone I know or I don't know to witness this," a kneeling man says to his partner, the automated stop announcement blaring in the background, CNN reported. "I will be loving you for the rest of my life." After the announcement, the train erupted with support from passengers. 
The video was recorded on Sunday during China's Mid-Autumn Festival, which is traditionally a time of romance among the country's more than 1.3 billion citizens. After the footage was uploaded to Weibo, the Chinese equivalent of Twitter, it immediately went viral, generating more than 10,000 shares as of Thursday morning, CNN reported. 
"Everyone is entitled to live the way they like as long as it doesn't hurt others' welfare," Helen Dang, 26-year-old employee of a Beijing-based media company, told Mic. "I'm happy to hear passengers cheering on the train."
The spontaneous eruption of praise was a far cry from decades ago, when China all but outlawed homosexuality under the crime of "hooliganism." The offense was only formally taken off the books in 1997. (The United States, by comparison, only fully decriminalized homosexuality in 2003.) In 2001 meanwhile, the Chinese Psychiatric Association removed same-sex attraction from its official list of mental disorders. 
Though same-sex marriage is not legal in China and has been all but laughed out of the country's rubber-stamp legislature on numerous occasions, the incident on Beijing's number 1 subway line was hardly the first of its kind. In 2013, two lesbians previously ruffled feathers when they demanded a marriage certificate from a court in eastern Beijing. In 2014, a British diplomat in Shanghai experienced viral fame after photos of his wedding to an American but ethnically Asian man were uploaded online. 
A snapshot from China's emerging culture wars reveals a landscape not so different from the U.S. in the early 2000s. A 2013 Pew survey found 57% of Chinese disapproved of homosexuality in general, which is the exact same percentage of Americans who opposed same-sex marriage in 2001. However, these numbers, as they did in the U.S., are likely changing and can vary enormously depending on where you are in the country.
"Just like in the U.S.," Danny Cai, another employee of a the same media company, told Mic. "How people think of gays in NYC and Texas can be quite different."