England and Wales Just Banned Smoking in Cars With Children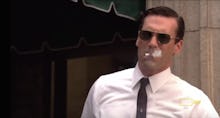 On Thursday, a new law went into effect banning people in England and Wales from smoking in cars while children under the age of 18 are inside. Breaking the law could result in a fine of 50 pounds ($75) for those who can't resist lighting up.
The law applies even when windows are rolled down and sunroofs are open, since smoke can remain in the car for as long as 2 1/2 hours after extinguishing a cigarette even under the conditions. The law, however, does not apply to those cruising around in convertibles.
As 17-year-olds can technically drive in England and Wales, they will not be breaking the law if they are smoking on their own. However, if there is another passenger under 18 or they are not driving the car, the driver will be subject to a warning or fine. 
The police have been advised to help ease people into the transition and not be aggressive when stopping people who violate this law. During the first three months, the National Police Chiefs' Council said in a statement they would use an "educational, advisory and non-confrontational approach," reports Associated Press.
"Today is truly a cause for celebration for all those who care about protecting the health of generations to come," Penny Woods, the British Lung Foundation chief, said, according to AP. 
Parliament passed the law in February in spite of ardent objections from high-profile politicians. "Do we let the police into people's homes where children are watching six hours [of] television?" Nick Clegg, former deputy prime minister of the United Kingdom, said last year, according to the Guardian. 
"Do we have the state going into kitchens to say, 'That is one Coke can too many'? I think sometimes we have to say, hang on a minute, laws and legislation is not always the solution," Clegg added. "You cannot sub-contract responsible parenting to the state."
Scotland's parliament is expected to consider its own such ban to potentially come into effect next year, BBC reports, though Northern Ireland, the fourth territory of the United Kingdom, will hold off judgement until they see how the legislation has fared in the rest of the U.K.
Portions of the United States have a similar law. Arkansas, California, Louisiana, Maine, Oregon, Utah, Vermont and Puerto Rico all have some kind of ban on smoking in cars with children, though the age restrictions vary by state. Variants of this smoking ban also apply in certain constituencies of Alabama, Hawaii, Indiana, Kansas, New Jersey and New York. Currently, however, there are no federal laws under consideration.
More than 4,000 chemicals, over 70 of which are cancer-causing, can be found in cigarette smoke, the British Lung Foundation explains. Furthermore, since 1964, an estimated 2.5 million people have died from secondhand smoke in the Unites States alone, the American Cancer Society notes.