Hurricane Joaquin Update 2015: Storm Strengthens to Category 3 as It Barrels Toward US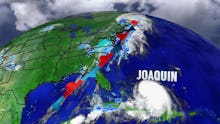 Hurricane Joaquin, which could be headed for the United States, was upgraded from a Category 1 to Category 3 storm on Wednesday as it hit the southern Bahamas and Cuba, the U.S. National Hurricane Center announced. The storm is expected to strengthen to a Category 4, with winds topping 140 mph, by Friday. 
The U.S. may see a hurricane watch as early as Thursday, the director of the National Hurricane Center tweeted.
Joaquin is currently centered over the central Bahamas and is expected begin moving north before paralleling the East Coast of the U.S. on Friday and Saturday, AccuWeather reports. The storm could reach the New York area by as early as Tuesday. 
U.S. landfall: Forecasters aren't sure if the hurricane will directly hit the U.S., however they predict it will make landfall along the mid-Atlantic and New England coasts if it does, AccuWeather reports. 
Regardless, the East Coast region of the U.S. is in for heavy rainfall, strong winds and flooding next week, CNN reports. The U.S. is expected to experience moisture before Joaquin hits. 
Rain, rain and more rain: Virginia and the Carolinas could see historic rainfall and flooding this weekend, NBC reports.
"Anywhere from South Carolina all the way up to the Northeast needs to be on the lookout for this storm," CNN meteorologist Jennifer Gray said. "There's still a lot of uncertainty with this storm."
Crews in Monmouth County, New Jersey, along the shore, have already started draining a lake to prepare for flooding, according to NBC.
"There is so much tropical moisture, we will get 10 inches of rainfall in the Mid-Atlantic (in the next seven days) — and that's with a miss," CNN meteorologist Chad Myers said. "If we get a hit ... that number may double."
Joaquin's current status: Before it heads north, though, Joaquin may threaten lives and property in the Bahamas through Thursday, AccuWeather reports. Heavy rainfall up to 20 inches is possible and could cause life-threatening flash floods, according to the National Hurricane Center. 
"Hurricane conditions are expected to continue in portions of the central and southeastern Bahamas through Friday," the National Hurricane Center reports. Wind gusts were projected to reach between 75 to 100 mph and have already exceeded that at a current 120 mph, Good Morning America tweeted. 
The next complete advisory on Hurricane Joaquin from the National Hurricane Center will be at 11:00 ET on Thursday.