This Transgender Model Called Out a Problem That Fashion Still Needs to Get Right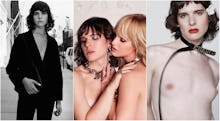 Hari Nef began modeling from the onset of her transition and quickly caught the attention of fashion designers and producers. This year she made history by becoming the first transgender model signed to top agency IMG Models.
While Nef's rise to fame during the last year is seen as a sign of progress in the acceptance of transgender individuals, Nef's sexuality and physical appearance has always been at the forefront — and that's problematic.
In a new interview with Good magazine, Nef said the bodies of trans women are continuously sexualized, as evidenced by the amount she's had to do topless or nude photo shoots. As Nef told Zackary Drucker, a transgender performance artist who interviewed her for Good:
I feel like selling sex permeates all trans women professionals. I've been asked to get my tits out on almost every job, including this shoot. People want to see my tits. They want to see my body. Even on Instagram I made a spectacle out of my body; I posted topless photos. I obviously was operating in a milieu of an art community, and not trying to be porn-y or slutty or whatever, but at the end of the day, it's the same shit, and I know that people are fascinated by my body.
Reducing people to their body parts: The fashion industry has seen an increased inclusion of transgender models on the runway and designers introducing more gender-nonconforming clothes. 
But by focusing on Hari's physical appearance, fashion photos risk reducing her to the mere sum of her body parts, or risk putting "evidence" of her trans identity on display for the curious. And limiting and categorizing trans models merely by their gender identities can lead to a sense of tokenism.
That ever-present sense of reduction and tokenism is something other models have called out, including model Arisce Wanzer, who told the Hairpin in 2013, "They just don't give a fuck. If it's not trendy right now, it's dead to them. And so often, they're like, 'We already have a tranny. We already have a black girl.'" 
Tackling actual trans issues, not just "trendy" trans aesthetic: It can be a slippery slope in fashion, which historically has a reputation for favoring cisgender, white, slender women. Embracing a more diverse array of models, including those who are transgender, is progress, but emphasizing their gender identities or voyeuristically presenting their bodies can give the impression that their inclusion is merely a trendy aesthetic.
That tendency is underscored by how trans issues are actually discussed in the industry. Nef previously told the now-defunct Style.com:
I don't think fashion is interested in trans issues. I can't think of many fashion institutions or artists who have addressed 'trans issues' by name, can you? How many openly trans people are getting major work in the industry — models, designers, photographers? Can you count them on more than one hand? Fashion is having a moment with trans aesthetics, not trans issues.
When it comes to actual trans issues, on the other hand, the industry still has a way to go, much like plenty of other industries and elements of society. Being considered on the merit of one's work, rather than as a token "diverse" person; being respected in interactions rather than treated strangely; being able to avoid uncomfortable, unfair questions about one's body — all things that any trans person would want in their workspace, in fashion or otherwise.
In fashion, the emphasis on trans models' bodies can work counter to these efforts. But in the meantime, as Nef told Good, showcasing one's body can be a method of reclaiming one's own image.
"That's why I showed my tits on Instagram long before I ever let anyone photograph them," Nef said, "because I wanted to be in control of that."