Emily Blunt Vetoed a Nude Scene for Her New Movie 'Sicario'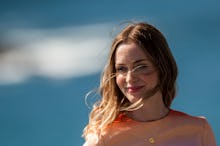 As the female lead of her new film Sicario, Emily Blunt had to do drama, action and more. What she wouldn't do, however, was a nude scene.
In an interview with Howard Stern, the British actress talked about a scene in which she was expected to be naked with her costar Benicio Del Toro. She pushed back against it, with Del Toro's support, and got it cut.
"That was in there originally, but it came out because we didn't agree with it," Blunt said. When Stern pressed her to explain who "we" was, she said with a laugh, "My tits."
Source: Soundcloud
Sicario is the same film in which an investor asked director Denis Villeneuve to replace Blunt because she was a woman. Since the part was an action lead, said investor reportedly wanted a man instead, as she told Stephen Colbert on The Late Show.
Blunt is the latest actress to fight against unnecessary nudity for female characters in film. When asked about sexism on set at this year's San Diego Comic-Con, Agent Carter star Hayley Atwell said the biggest element she had to push back against was sexualization of her character that does nothing to move the story forward.
Meanwhile, actress Jessica Chastain spoke out against the sexualization of women in action roles in a Radio Times interview published Monday. "If you look at films like Elektra and Aeon Flux, the problem that studios have is that they try to make kickass women very sexualized. They have to be in some cat suit," she said. 
Chastain then positively spoke about Sigourney Weaver in Alien and Jennifer Lawrence in the Hunger Games series as positive, sexy-but-not-sexualized portrayals of female action heroes.
Blunt's voice being heard on the set of Sicario is a positive sign. Hopefully more and more male creatives behind the camera will be as collaborative with their female stars to make sure any nudity is artistic, not simply for the male gaze.
Sicario is in theaters now. Watch the trailer below.