"100 Years of Wedding Dresses" Proves Strapless Princess Gowns Aren't the Only Option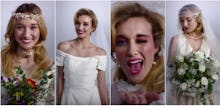 One scroll through Facebook and the epidemic quickly emerges: strapless dresses. Strapless, white, poofy princess dresses.
That seems to be the wedding uniform these days, with just about every bride seemingly doing some version of the full-skirted, tight-topped bridal gown. The color is always white, and there are typically no straps to be seen.
Yet there is another way, people — in fact, there 10 decades of alternatives that might inspire the modern bride. The latest time-lapse history video by Mode Video is "100 Years of Wedding Dresses in 3 Minutes," and it showcases just how nuptial fashion changed with the fashions of the day. 
The 1920s dresses resemble luxe flapper dresses, while the 1950s dress is a return to curvy feminine shapes. The 1970s dress has serious music festival vibes (hello, flower crowns), while the 1980s is all about those big shoulders and hair.
Today? Luckily, the selection isn't actually strapless, but a lovely cap-sleeve look. Might this decade finally see a turn from the tyranny of the strapless ballgown to something more delicate? If the video's any indication, the trends turn fast — for both fashion and marriage. The video ends with a bit of a surprise; call it an ode to #LoveIsLove or a reminder of what weddings are really all about. Hint: It's not a dress.
1915:
1925:
1935:
1945:
1955:
1965:
1975:
1985:
1995:
2005:
2015:
But what's more important than the dress? The person you love — whoever they are.
h/t Huffington Post