Tinder's "Super Like" Button: New Dating App Feature Lets Users Match on a Deeper Level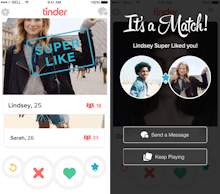 The popular dating app Tinder allows users to scroll through people's profiles, swiping left if they "like" what they see and right if they're not feeling it. But what if a simple "like" doesn't say enough?  
On Tuesday, Tinder answered that prayer with an added swipe up option. By swiping up or tapping the blue star on someone's profile, soulmate-seekers can tell people they don't just like them, they "Super Like" them.
If two people swipe right on each other's profiles, Tinder matches them and opens a private chat to ignite the flame (or just an awkward and sometimes creepy conversation with a stranger.) Those who are Super-Liked will see a blue star on the profile of their admirer.
"I've always said that a match on Tinder is a lot like meeting eyes across the room," Tinder CEO and cofounder Sean Rad told TechCrunch. "Super Like is more like going up to someone and saying 'hello.'"
Use this feature wisely, though — unpaid users can only swipe up once a day, which makes the gesture more genuine. For the players out there, upgrading to Tinder Plus (price varies by age) allows users five Super Likes per day. 
After testing out the feature in Australia for the past few weeks, Tinder found that users are three times more likely to match with someone they Super Like, and that subsequent conversations last 70% longer, according to the company blog. 
"What you're going to see in the coming months is Tinder launching features that help you digest the sheer volume of people on the app," Rad told TechCrunch. "There is just so much opportunity on Tinder that we need to build features that help you filter through and find that one special person." Tinder has created 9 billion matches so far, TechCrunch reports. 
The new Super Like feature could be an attempt to improve the chances of actually having a successful Tinder date. The act of Tinder-ing is more often seen as a game, as a way to "Netflix and chill" or as a means to mess with people than it is a legitimate dating app. 
Though most see it as harmless fun, Vanity Fair threw some serious shade at Tinder in its September issue when it referred to the app as part of the "dating apocalypse." Tinder freaked out in a Twitter rant, saying it's actually about "meeting new people for all kinds of reasons. Travel, dating, relationships, friends and a shit ton of marriages."