This Bride May Have Just Shown the World Exactly What You Shouldn't Do at Your Wedding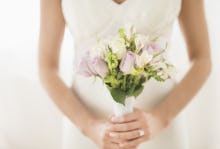 Compiling the perfect wedding guest list is no easy feat. Depending on the size of the event, choosing your guests requires a delicate balance between asking yourself, "OK, so who is everybody that I know?" and "Who would I put in my MySpace Top 8?" Once you end up with the perfect list, you can expect to pay an average of about $68 for each of their panko-crusted chicken dinners.
But what do you do if one of the Chosen Ones RSVPs "yes," only to later decide to flake out on the big day? Well, if you're like one recently married Minnesota couple, you'll go all #BBHMM on them and straight up snail-mail a receipt, kindly requesting they reimburse you for the expense. 
On the receiving end of this money grab was no-show Jessica Baker, who told local news station KARE 11 that she wasn't able to come to her friend's wedding because her mom told her she couldn't babysit her kids. "She called at the last minute and had something come up and said I can't make it," Baker said. 
With no one to watch her li'l rugrats, Baker and her husband made the last-minute decision to sit the wedding out. A few weeks later, she received a detailed invoice for two herb-crusted walleyes, complete with a service and tax charge:
Considering how much the average wedding costs ($31,213, according to one 2014 estimate), mailing an invoice to a no-show might seem like the ultimate in passive-aggressive behavior. But Baker isn't totally without blame either: It's a pretty classless move to RSVP to a wedding and not show up, especially because she didn't even bother to text the bride and groom a quickie explanation of her absence.
Nonetheless, Sarah Baumann Rogers, a wedding etiquette expert and the editor of Minnesota Bride, said it was unbelievably tacky for the happy couple to send Baker an itemized receipt. "Under no circumstances should you choose to follow up after the fact, kind of questioning why they couldn't attend or much less sending a bill," she told KARE 11. Instead, it's best to just quietly accept that these people are crappy friends and move on with your life. 
h/t KARE 11