Mother Surprises Trans Teen Daughter With Legal Name Change on Her Birthday Cake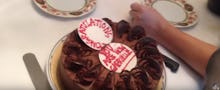 Ontario, Canada mother Rose Gladu surprised her 16-year-old transgender daughter, Gabrielle, with a cake at dinner on Sunday. The cake, covered by a plate, had a surprise message written on top: "Congratulations! You are now Gabrielle!"  
Gabrielle's mother surprised her with the news that her name was legally changed to properly reflect her gender identity, BuzzFeed reports. In the caption for the Instagram post, Gabrielle wrote, "None of my transition would have been possible if I didn't have my mother." 
Overcome with emotion, Gabrielle and her mother embraced, while those in the room began to clap. 
"I came up with the idea of the cake as a vehicle to celebrate her name change while having an informal family dinner with those that support, love and care for her," Rose Gladu told BuzzFeed News. "It was a spontaneous event because we had been waiting over two months to receive her legal name change, and felt it was an opportunity when those that cared were there to celebrate this new beginning."
"The moment was a confirmation that my transition mattered to my family, and they were more than happy to let me live as my true identity. I also couldn't wait to eat the cake," Gabrielle told BuzzFeed News. 
The name-changing process: While Canada used to require gender-related surgery to change gender markers on federal documents, that law changed in February, the National Post reported. 
Across the border in the United States, guidelines for changing a legal name vary between jurisdictions, with some states making it more difficult than others. The process alone can impact a transgender person's access to health care, federal student loan eligibility, ability to vote and even career options. 
Even before her name change was legal, Gabrielle ran a YouTube channel dedicated to sharing her experience as a young transgender individual. In the introductory video, she says she wants to document her transition, as well as share her love for makeup.
Gabrielle has produced videos on many parts of the transgender experience, including her transgender inspirations and making her voice more feminine. 
Parental support is crucial for trans success: Gladu's help in the name change process was just a small part of her role in Gabrielle's transition. She's popped up consistently on her her daughter's Instagram and YouTube activity. 
In a recent Instagram post, the teen wrote, "My mom has supported me since the start of my life, my transition and she supports my future. She encourages me to make great music, excel at my education, and pursue my dreams of studying fashion. So many of us are lucky to have supporting parents, so let's be really thankful and do small things that can brighten their days."