'Serial' Podcast Will Become a TV Show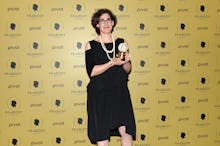 Just when you thought the producers of the majorly popular WBEZ podcast Serial couldn't throw fans any more curveballs, they've just confirmed a shocking development. The hit whodunit series from producer Sarah Koenig will be adapted for a TV series, Deadline reports.
Before fans go nuts over seeing the Serial saga play out on screen, they should know this: The show doesn't detail Adnan Syed's conviction for the alleged murder of Hae Min Lee, which served as the plot for season one. Instead, the TV series digs into the making of Serial and tracks Koenig and her team of producers through the podcast's lifecycle. A meta concept, the show about a show will most likely appeal to established Serial fans. 
Phil Lord and Chris Miller, the film writing-and-directing duo that brought us The Lego Movie, will co-captain the production of the Serial TV series. Koenig, NPR's Ira Glass and his team of producers at the beloved podcast This American Life will sit as executive directors on the show. 
In the first season of Serial, Koenig and her team investigate the events leading up to the murder of 18-year-old Hae Min Lee. The high school senior from Baltimore, Maryland, was found strangled to death in Leakin Park on Feb. 9, 1999. Lee's ex-boyfriend, Adnan Masud Syed, was convicted of murder in the first degree and sentenced to life in prison. 
In Serial's first season, Koenig grapples with a number of factual inconsistencies that may or may not prove Syed's innocence. For a primer on Serial's first season, ABC 2 has coverage:
Source: Soundcloud
Koenig and her production team have been hard at work on not one but two upcoming seasons of Serial. Though Serial producers have been cagey about their next big investigative project, Hollywood Reporter has confirmed that the subject of season two will track United States Army Sgt. Bowe Bergdahl's incarceration. In March, Bergdahl was charged with desertion and misbehavior before the enemy. 
According to Heavy, the podcast producers are already scheming about the subject for a third season of Serial. However, considering their history of secrecy, chances are Koenig and her crew will keep details on lockdown until they're closer to a launch date. 
Season two of Serial we begin sometime this fall, according to the podcast's homepage.