Wildebeest Migration Tracker and Live Stream: Here's How to Watch the Serengeti Odyssey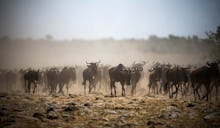 Right now, 1.7 million wildebeests, 400,000 gazelle, 300,000 zebra and 12,000 elands are on an epic 1,200-mile migration across Africa's Serengeti region. The trek occurs across northern Tanzania and the Maasai Mara game reserve in southwestern Kenya each year. However, the massive migration goes largely unseen. This year, for the first time ever, the folks at HerdTracker are putting a spotlight on what's been called one of the great wonders of the world.
HerdTracker uses a Google map to keep tabs on the animals' progress in real time and log the precise location of the herd. Live footage of the migration, which hit the Internet Tuesday, will be available until Monday. 
To get a front row seat to the wildebeests' journey, viewers should head here to register with Discover Africa, a Cape Town, South Africa-based safari agency. The viewing party for streaming footage happens via Periscope, Twitter's live-streaming video app. HerdTracker is also archiving footage of the migration on YouTube. 
The live Periscope footage is a touch blurry, but knowing we're witnessing the little-seen event in real time should make the poor video quality easy to forgive. 
The odyssey generally begins in October, when early fall rains displace the creatures as they move to search for food and water. "Rain is the engine that drives the migration, dictating where the herds will be at different times of the year," famed British wildlife and safari author Brian Jackman told the Telegraph in June. "While July to October is generally the time to catch the show in Kenya, unusually dry conditions in the southern Serengeti have encouraged the animals to head north far earlier than usual."
Check out some photos of previous migrations below: