Future NASA Missions: Venus and Psyche Asteroid Make List for Possible 2020 Flights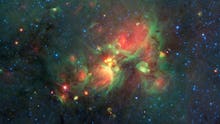 NASA made an exciting announcement on Wednesday for all space-nerds and earthlings alike: The space agency has selected five possible space missions that could launch as early as 2020. Among the possible missions are a study of the surface of Venus, an in-depth look at near-Earth objects and the first examination of the Jupiter Trojan asteroids.
"The selected investigations have the potential to reveal much about the formation of our solar system and its dynamic processes," John Grunsfeld, astronaut and associate administrator for NASA's Science Mission Directorate in Washington, D.C., said in a statement. "Dynamic and exciting missions like these hold promise to unravel the mysteries of our solar system and inspire future generations of explorers. It's an incredible time for science, and NASA is leading the way." Here's a full list of the selected planetary missions and the details of each proposal. 
Canadian astronaut Chris Hadfield took to social media after the announcement:
NASA will fund each of the five missions $3 million to further study and develop their idea over the next year. By September, NASA will review the progress of each mission and choose one or two to pursue. Any of the chosen missions will cost at least $500 million, according to the space agency. 
One of the chosen missions seeks to find out if there are volcanoes on Venus. Another, a camera called "Lucy," promises to discover objects closer to Earth than any mission of its kind has found before. 
Astronomer Mike Brown, who's on the Lucy team, tweeted support for one of his competitors, a metallic asteroid called Psyche.
He then touted his own mission: 
The initiative is part of NASA's Discovery Program, founded in 1992 to sponsor solar system exploration. The program has launched 12 projects to date, including Messenger, the first spacecraft to orbit Mercury, more than 11 years ago.
The announcement comes shortly after NASA unveiled the discovery of liquid water on the surface of Mars. Scientists already knew that water exists on Mars in the form of glaciers; however, finding liquid water gives credence to the possibility of life on the red planet.