Investigators Declare Arson in Fire at California Planned Parenthood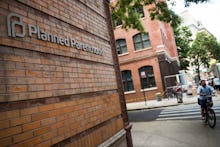 On Thursday morning, authorities declared a fire at a Planned Parenthood center in Thousand Oaks, California, on Wednesday night was arson.
At 11:30 p.m. Wednesday, somebody likely broke a window of the center with a rock, poured or threw gasoline in and lit it on fire, Ventura County sheriff's Capt. John Reilly told the Los Angeles Times. The sprinklers in the building were triggered, extinguishing the fire before firefighters arrived. No one was in the building or harmed.
"We are grateful for the quick and thorough response of law enforcement and that no one was in the building at the time of the fire," Jenna Tosh, CEO of Planned Parenthood of Santa Barbara, Ventura and San Luis Obispo Counties, wrote in a statement to Mic.
"We are currently assessing the amount of damage caused by this attack and are determined to reopen as soon as possible to serve the health care needs of our patients," she added. "The Thousand Oaks Health Center provides over 7,000 patients with a wide range of health care services each year."
It's happened before. This is not the first time Planned Parenthood has come under physical attack. On Sept. 4, a clinic in Pullman, Washington, was the target of another arson attack.
Some Planned Parenthood clinics became targets for protest and violence after a series of highly controversial videos was released by the anti-abortion Center for Medical Process, purportedly showing employees discussing their sale of fetal tissue, for example. However, Planned Parenthood ardently argues the videos were heavily edited to create a conversation that never occurred. 
An independent body, Fusion GPS, was commissioned to forensically analyze the recording and they concluded the footage was manipulated. "A thorough review of these videos in consultation with qualified experts found that they do not present a complete or accurate record of the events they purport to depict," their report reads. 
"We've said all along that the videos were heavily edited to deceive the public and now we have expert, independent analysis that confirms it," Dawn Laguens, executive vice president of the Planned Parenthood Federation of America, said, according to NPR.
Part of a bigger controversy: Republicans are strongly campaigning to end federal funding of Planned Parenthood. On Tuesday, Cecile Richards, the organization's president, appeared before the House Oversight Committee, defending and explaining the use of federal money. "It doesn't feel like we're trying to get to the truth here," Richards said during a barrage of questions and subsequent interruptions. 
During the Republican presidential primary debate on Sept. 16, candidate Carly Fiorina was applauded by conservatives after she demanded Planned Parenthood be denied federal funds, even if it meant a government shutdown.
The health care organization has been fighting against what they describe as scurrilous attacks and have attempted to carry on normally. 
"Due to the recent campaign of false attacks against Planned Parenthood, we have increased security measures over the last couple of months to ensure that both our patients and staff continue to be completely safe," Kim Custer, executive vice president of health care for the Planned Parenthood Federation of America, said in the statement to Mic. 
"While this extremism is deeply troubling, our focus is on providing high-quality, compassionate health care to the millions of women, men, and young people across the country who rely on us," Custer added.