Will Hurricane Joaquin Hit New York? An Update on the Projected Storm Path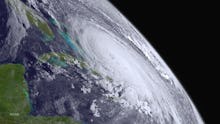 On Thursday, the National Hurricane Center leveled up Hurricane Joaquin to a Category 4, an "extremely dangerous" storm with maximum sustained winds of at least 130 mph. As the storm, which tore through the central Bahamas on Thursday, gains momentum, some in the United States are wondering where Hurricane Joaquin could head next — and whether major metropolitan areas like New York City are in its path. 
Many New Yorkers recall the devastation caused by Hurricane Sandy in 2012. "I hate to compare anything to Sandy, but the setup isn't all that different," Rob Reale, a meteorologist at WeatherWorks, said. "I know a lot of things can get overhyped, but this, I actually think, may be underhyped." Hurricane Sandy was a Category 3 hurricane. 
Despite such warnings, weather tracking technology offered continued uncertainty about Hurricane Joaquin's definitive path. It's likely the storm will hit New York, but not at full force, the New York Times reports. Weather experts said Hurricane Joaquin could weaken by the time it reaches the U.S. Mid-Atlantic and Northeast.  
Even if the storm doesn't maintain its intensity through the weekend, New Yorkers are likely to experience heavy rains and flooding into early next week, according to Forbes. On Thursday, New York Gov. Andrew Cuomo mobilized state agencies in preparation for potential weather emergencies.
Weather reports predict Hurricane Joaquin will lessen in intensity as it moves north past Delaware and New Jersey, the National Hurricane Center reports. That would put Joaquin at New York, Connecticut and New Jersey as soon as Monday. 
Computer models used to track hurricane storm paths, which Reuters reports are "often" reliable, show the storm nearing the coasts of North and South Carolina over the weekend. At the same time, "Confidence in the details of the forecast after 72 hours remains low, as there have been some large changes in the model guidance overnight," the National Hurricane Center writes. "The range of possible outcomes is still large, and the possibility of a hurricane landfall in the Carolinas still cannot be ruled out."
At the same time, officials estimate the storm could impact more than 65 million people, AccuWeather reports.
Category 4 hurricanes are categorized by a windspeed range of 130 mph to 156 mph. Five is the highest possible hurricane category.