Will Hurricane Joaquin Hit New Jersey? An Update on the Projected Storm Path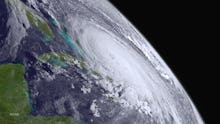 Hurricane Joaquin was upgraded to a Category 4 storm by the National Hurricane Center, as the United States began preparing for potential landfall and New Jersey Gov. Chris Christie declared a state of emergency in the area. The storm is expected to continue pushing forward to the eastern coast of the U.S. at about 6 mph, passing over part of the Bahamas in its path and potentially hitting New Jersey on Monday night. 
Joaquin is the first Category 4 hurricane of the 2015 Atlantic season, but whether it will actually hit the eastern region of U.S. coast remains unknown. However, the NHC warns Hurricane Joaquin is "extremely dangerous," writing, "A very dangerous and life-threatening storm surge will raise water levels by as much as five to 10 feet above normal tide levels in the central Bahamas in areas of onshore flow." 
Regardless of whether the storm will hit New Jersey, Christie is calling on residents to begin preparing for traffic delays, major flooding and potential damage to the state that can come earlier than the hurricane's possible Monday landfall. 
"We know there is definitely going to be moderate and likely to be major flooding events in South Jersey Friday and Saturday, with five to six inches of rainfall expected to come," Christie said during a press conference Thursday, according to ABC6. "I need all of you to prepare today. Now is the time for you to prepare." 
Christie also posted a series of tweets informing residents of a public list on storm preparedness created by the New Jersey governor. 
As the storm continues to strengthen, from a Category 1 on Wednesday to a Category 4 on Thursday, analysts are predicting the storm will almost certainly hit some portion of the U.S. 
"Joaquin will move northward much of this weekend, roughly paralleling the East Coast," Accuweather reports. "There is nearly equal possibility the storm will make landfall along the mid-Atlantic coast, the New England coast or veer out to sea."