Fatal Mass Shooting at Umpqua Community College in Roseburg, Oregon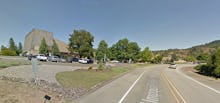 A shooting at Umpqua Community College in Roseburg, Oregon, has left 10 dead and seven people injured, Oregon state police confirmed Thursday. In a press conference, Douglass County sheriff John Hanlin announced that the shooter had been killed. 
"All I know is that two students came into our kitchen ... and told us they heard gunshots," Liliana Navarro, a cashier at Umpqua Community College's Logger's Cafe, told Mic. "All of a sudden my manager is telling us we need to lock down."
The Douglass County sheriff's office also issued a statement Thursday afternoon confirming more details from the attack.
"On October 1, 2015 at about 10:38AM, an active shooter was reported at the Umpqua Community College Campus in Roseburg, Oregon. The only information available at this time is: It is believed there is only one shooter who is no longer a threat. There is no current threat to the community. Staff and family are being taken by bus to the Douglas County Fairgrounds to meet family. Emergency personnel are urging the public to avoid the area as it could hamper emergency efforts." 
Photos from the campus have begun to be posted to Twitter. 
Here's a look at mass shootings in the United States so far this year:
The state of Oregon allows students to carry guns on campuses. 
Oct. 2, 2015, 9:40 a.m.: This story has been updated to reflect the revised official victim count at Umpqua Community College.