Oregon School Shooting Is the 142nd School Shooting Since Sandy Hook Massacre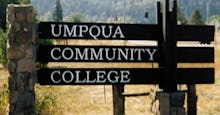 Thursday's shooting at a community college in Oregon is the 142nd school shooting in the United States since the December 2012 Sandy Hook massacre, considered a "turning point" by many in the gun control debate. On Thursday, 10 people were killed and seven more injured at a mass shooting in Roseburg, Oregon, at Umpqua Community College. 
Speaking to local broadcast news station KATU, state police say the gunman opened fire at the campus' Snyder Hall around 10:40 AM. During a Thursday press conference, Sheriff John Hanlin later confirmed the shooter, a 20-year-old male, is dead.
The Oregon campus shootings is the 294th mass shooting this year, according to Mass Shooting Tracker. On July 24, two women were shot dead at a screening of Trainwreck in Lafayette, Louisiana. It also follows the on-camera shooting of two reporters in Moneta, Virginia, on Aug. 26. On June 17, 21-year-old Dylann Roof killed nine members of a predominantly black church in Charleston, South Carolina. 
By the end of July, there had been 204 mass shootings in the United States, the Washington Post reported — one for each day of 2015. Data below is of as of Aug. 27.
Oct. 2, 2015, 8:50 a.m.: This story has been updated to reflect the revised official victim count at Umpqua Community College.