Meet the Teenage Girls Who Are Taking a Stand Against Slut-Shaming Dress Codes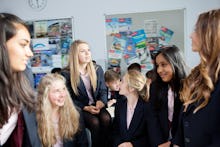 Cat Just was half-listening to Bangor High School vice principal Bryan Doyle's back-to-school assembly when he said something that brought her to attention. Doyle was addressing the girls in the audience, telling them, "Ladies, we don't want to see your bra straps." He went on to describe the "appropriate" length for girls' shorts, as well as how much cleavage was acceptable. At no point in his speech, Just noticed, did Doyle address the boys in the audience.
In an op-ed for the Bangor Daily News, Just described speaking up about gender bias in the school's dress code and subsequently being asked to leave the assembly. She marched out to a round of applause from her fellow students and rode that momentum to Facebook, where she created a post calling her fellow students to join her in protest. She called it the "crop top movement."
The next day, boys and girls showed up at Bangor High rocking crop tops, spaghetti straps and short shorts. As a result, Just reported multiple young women were either "spoken to, disciplined or withheld from class," according to the op-ed. One girl was forced to wait for 2 1/2 hours for her grandmother to arrive with "appropriate attire." On the other hand, a boy wearing a crop top was not disciplined and actually got amused laughs from the faculty, the op-ed said.
"If this isn't indicative of sexual bias and misogyny," Just wrote in the op-ed, "I don't know what is."
Taking a stand against sexism: Just's experience at Bangor High is not an isolated one. Across the country, high schools have dress codes prohibiting various items of clothing for young women without having similar requirements for men. Increasingly, however, young women are protesting this double standard. 
Most recently, students at Charleston County School of the Arts in South Carolina protested the double standard of their high school's dress code, which punished young women for wearing short skirts and tank tops while giving male students a pass. The students wore scarlet A's, a reference to Hester Prynne in The Scarlet Letter.
"You see guys walking around in muscle tank tops with half their sides hanging out and their pants hanging down, and they don't get called out for that. They don't get called out for wearing a hat, but a girl will get called out for a short skirt in a second," a student at Charleston County School of the Arts told the Post and Courier. 
Earlier this year, female students at McHenry East and West High School in Illinois were told that all of their outfits must come with sleeves, thus preventing girls from wearing shoulder-baring tank tops at school. The edict inspired sophomore Hailey Everhart to band together with her friends to create a Facebook page and an Instagram account for their #ShowYourShoulders campaign, which encouraged female students to don strappy sundresses and off-the-shoulder T-shirts at school.
Everhart told Mic the movement has come to a bit of a standstill, as the administration can't change school rules mid-year. But in the meantime, at least one other school has taken up their mission. Paige Szathmary is a senior in Idaho who organized an anti-dress code protest called "Show Your Shoulders!" in August. 
"I had been watching the local news, and they were featuring a story from out of state about another high school's dress code," Szathmary told Mic. "One of the female students talked about students perpetually getting in trouble for wearing tops with thin straps. I turned to my mom and I said, 'This happens at our school every day. What's so sexual about women showing their shoulders?' That started my initial push to make a difference with the dress code at our school."
On the event page, Szathmary called on her fellow students of all genders to "put an end to the sexualization of young women's bodies" by "show[ing] your shoulders this Thursday to let the school know you don't agree with this requirement." Students expressed their support by posting photos of the modest outfits they were wearing when they got "dress coded" by teachers.
After protesting and writing a letter to the administration, Szathmary and a friend spoke to the school's principal and vice principal about their concerns. The meeting prompted the administration to create a Dress Code Board, which took on the task of reforming the school's dress code. Since then, Szathmary said all sexist wording has been deleted from the dress code. The school is "working on adding requirements for the dress code that still allow a respectful environment for the students, teachers and administration," Szathmary said.
Banning belly buttons: Shoulders aren't the only body part young women are forbidden to show at school. Last May, Alexi Halket, a student at Etobicoke School of the Arts in Toronto, Canada, was sent to the principal's office for wearing a belly-exposing top and a short, gray skirt. Halket turned to Facebook to fight for female students' right to wear crop tops to school. She created an event for #CropTop Day, in which all female students were encouraged to wear crop tops to school.
"So today a male teacher spoke to the vice principal regarding the shirt I was wearing, saying that it looked 'too much like a sports bra,'" Halket wrote in her initial Facebook post. "First of all, what's wrong with a sports bra? It does its job of covering boobs. And why is skin perceived as 'inappropriate?'"
On #CropTopDay, hundreds of students showed up in belly-bearing tops and the administration sat down with students to discuss the dress code. While the high school principal argued that crop tops were "unprofessional" in a school setting, Halket stood by her guns.
"This is your job, so I understand if you have to be professional, but I have to go to school and I'm going to wear whatever makes me comfortable,'" she told the Canadian Press. The joke was on him: #CropTopDay went viral, with young women throughout the country donning belly-baring shirts in solidarity.
Not everyone agrees that dress codes are inherently sexist. In Canada, #CropTopDay spawned a fair amount of backlash, particularly on social media, where people argued that young women should focus on their studies instead of fighting for the right to wear provocative clothing. "The point of high school is to get an education. Not have #croptopday," one woman wrote. "You are still CHILDREN. #CoverUp." 
Those who have tried to institute dress codes have echoed the idea that provocative clothing can serve as an unwelcome disturbance in schools and workplace. "Removing one more distraction will help everyone keep their focus on legislative matters," Missouri GOP State Rep. Nick King wrote in an email proposing a dress code for interns in the Missouri Legislature. "We need a good, modest, conservative dress code for both the males and females."
Even though the argument for dress codes asserts the guidelines apply to both genders, those who oppose them say that's simply not the case in practice. For instance, when Haven Middle School in Evanston, Illinois, tried to ban leggings back in 2014, more than 500 students signed a petition against the ban, asserting that the school's argument that leggings were too "distracting" for the male student body was inherently slut-shaming female students. 
"Not being able to wear leggings because it's 'too distracting for boys' is giving us the impression we should be guilty for what guys do," Sophie Hasty, a 13-year-old student, told the Evanston Review.
Luckily, that double standard seems on the verge of becoming extinct, as young women are increasingly fighting sexist dress codes and winning. At Montclair High School in New Jersey, for instance, junior Kate Brown helped orchestrate a protest to fight school guidelines, telling NJ.com that young women were made to stand up in the middle of class in front of everyone so teachers could check the length of their shorts. Students created a Facebook page called MHS Students Fight the Dress Code, as well as the hashtag #IAmNotMyDress.
By the end of the school year, the #IAmNotMyDress movement resulted in a definitive change. According to a celebratory Facebook post, the MHS principal agreed to remove the words "distracting," excessive" and "revealing" from the dress code in the online version of the student handbook. 
Ultimately, high school girls' commitment to fighting dress codes has nothing to do with wanting to make a fashion statement nor is it really about them wanting to bare their bodies. Instead, it sends a message to school administrations across the country that young women shouldn't be made to feel ashamed of their bodies, and that they will no longer allow their education to be compromised because of their clothing. Get ready to #ShowYourShoulders and prove that #IAmNotMyDress. The fight is just beginning.