17 Powerful Tweets That Capture How Fed Up Americans Are With Tragic Gun Violence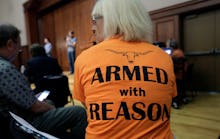 On Thursday afternoon, a mass shooting at Umpqua Community College in Roseburg, Oregon, resulted in 10 people dead and seven injured.
Immediately on social media, Americans rallied behind a common cause: gun control. A frenzy of tweets erupted as news of yet another mass shooting broke. "The Oregon college shooting is the 45th school shooting this year, but it's still easier to get a gun than a library card," one tweet reads. 
The Umpqua Community College shooting is the 142nd school shooting in the United States since the 2012 Sandy Hook massacre in Newtown, Connecticut. Sandy Hook, which left 20 young children and six school employees dead, generated a national outcry for tighter gun control. But years later, little has changed legislatively.
As the cycle repeats itself, many Americans seeming to be running out of patience. 
But as former Rep. Gabrielle Giffords alludes to, tragedies have the capacity to serve as impetus for meaningful change. 
Oct. 2, 2015, 8:50 a.m.: This story has been updated to reflect the revised official victim count at Umpqua Community College.