There's One Word Missing From Jeb Bush's Tweet About the Oregon College Shooting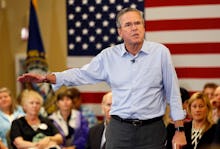 On Thursday, a mass shooting at Umpqua Community College in Roseburg, Oregon, left 10 dead and seven people injured. The shooter has been "neutralized," according to police sources.
In the aftermath of the tragedy, politicians in Washington used Twitter to express their condolences over the tragedy. And at first blush, Republican presidential candidate Jeb Bush's statement reads like many others:
At no point in his tweet, however, did the candidate mention the word "guns" — or even, for that matter, "shooting." Twitter immediately took the former Republican frontrunner to task for the omission, with some commenters going so far as to declare him and his party complicit in the tragedy.
After the Charleston massacre, when a white supremacist gunman killed nine people at a historically black church in June, an NRA executive publicly suggested that the fault lay more with the victims for not being armed than the perpetrator. Meanwhile, Donald Trump, the current Republican presidential frontrunner has bluntly described himself as "against gun control," and as a "very strong person on the Second Amendment." Another candidate Ted Cruz released a campaign video showing the Texas Senator literally cooking bacon off the barrel of a live gun. 
But as the Oregon shooting marks the 142nd such event since the massacre in Sandy Hook, it remains to be seen whether the Republican position will be viable in 2016. 
Oct. 2, 2015, 9:25 a.m.: This story has been updated to reflect the revised official victim count at Umpqua Community College.