Here's How "Hard" It Is to Actually Design Beautiful, Stylish Clothes for Plus-Size Women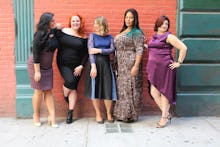 It is a truth universally acknowledged that plus-size clothes are the fucking worst. 
Garments are often schlumpy and without a waist. Patterns are fuzzy paisley prints in clashing colors, or just entirely black or gray. Trends are non-existent, with virtually the same unflattering silhouettes on every rack. They are just bad. Full stop.
What we want want to know is why, and what's being done to change that. 
Mic reached out to four designers from across the country who are actually making major progress in plus-size fashion and bringing the same chic, on-trend pieces to the size 14+ set. Because there are some important things we want to know, like the following:
How is designing for a plus-size woman different than designing for a woman who is, say, a size 2? 
"Simply, it's not," Mallorie Carrington, who runs the online boutique SmartGlamour, told Mic via email. "I get asked this question often, and I will never not give this answer. If you know to properly grade a garment from one size to the next, then you know how to make clothes for anyone. Anyone who says it is difficult is not being honest. Women are made up of so many more measurements than just bust, waist and hip."
SmartGlamour currently custom-designs pieces in sizes up to a 6X range. Carrington founded the company in 2014 after a successful IndieGoGo campaign to fund its first collection.
Ayanna Wu Celestin, who launched the online boutique Mei Smith earlier this year to great fanfare, holds that there are some specificities to consider while designing a plus-size garment. Celestin's boutique currently sells minimalist, luxury clothing for women up to a size 24, with a style that leans toward "a mixture of androgynous with a relaxed feminine touch," Celestin told Mic via email.
"Fit is a major, major, major deciding factor for women," she said. "Some women might hold their weight all on the top, and some might hold their weight all on the bottom. Once you really go past an 8 or 10, the sizing gets a bit trickier. You have to constantly look at how certain areas are designed, like the chest area or arm holes. You have to constantly adapt and adjust the measurements if needed."
20-year-old (!) designer Hannah Olson, whose day job consists of being junior at University of Nebraska at Omaha, runs her own custom couture boutique, Hannah Caroline Couture. Olson also stressed that there are just a few more things to consider when creating a garment that is plus-size.
"The main ways that designing and sizing for curvier women is different include considering which fabrics might work best, which silhouettes will accent curves in a tasteful way and how well the garment is able to accommodate different body types," Olson told Mic in an email. 
Does it really cost more to design and produce plus-size clothing? 
Fit is one thing, but there's also the possibility plus-size designs requiring more fabric, or more durable fabrics altogether, which could drive up cost. 
Designers have used that as an excuse for not designing more inclusive pieces, or charging more for them. Old Navy came under fire last year for up-charging their plus-size jeans due to the "unique fabrics." According to Today, size 8 jeans were going for $27, while a size 28 pair was $45. The difference sparked a Change.org petition, but it also speaks to the fact that more fabric can equal more cost. 
But more importantly, there a huge market. With the average American woman's dress size ranging from a 12 to a 14, the plus-size industry is valued at $17 billion. Cost doesn't seem like a strong reason to not design plus-size clothing — and designers who are in the market agree.
"Designers will cite cost, which I will also debunk right now," SmartGlamour's Carrington said. "My set size range runs from XXS to 6X. I base my prices off of the fabric consumption for XL and 1X sizes. Not only are they in the middle of the size range and take up the mid amount of supplies, but they are also the most commonly found size of American women. It is a no-brainer and completely evens out."
Alexandra Waldman, co-founder of new plus-size brand Universal Standard, told Mic, "There is no reason why an experienced designer cannot overcome this [cost], but [my co-founder] Polina and I can."
And as Olson points out, businesses do better if they're best meeting customer demand — and the demand is robust enough to consider plus-size women a formidable consumer base. 
"As designers, we are also entrepreneurs in charge of running profitable businesses, and businesses only profit when they figure out how to fulfill customer's needs," Olson said. "Being a designer needs to be less about putting our ideas out there and more about listening to what our customers need and building that into our designs as solutions."
Alright, so what's the real reason designers aren't designing for plus-size women?
It's not that it's prohibitively expensive, or that there isn't demand. One of Universal Standards' co-founders believes there may be more insidious stereotypes working against plus-size women.
"I think some of these problems are ideological," Waldman said. "They're masked as practical but really they aren't. Some of the popular designers want to feature their clothes in a particular light that they think is more attractive. With this body-positive movement, I think there is going to be a change."
Just think back to the backlash Abercrombie faced when its CEO admitted, "We go after the cool kids. ... A lot of people don't belong [in our clothes], and they can't belong. Are we exclusionary? Absolutely." See also: the flack Lululemon got when the press exposed its strategy to deliberately exclude plus-size shoppers. 
Plus-size women are too often seen as uncool, unstylish or even not affluent enough to be worth catering to.
What is it going to take to see more progress for plus-size clothing? 
"As a plus-size woman, I really honestly don't think that this is going to change until we change our perception of beauty," Waldman said. "It's like they've been walking away from cash on the table for a very long time. They will not do it until the bigger girls are considered beautiful and attractive, and that's perhaps when they will create something in a more inclusive size range."
That change can come from activism by individuals, such as the many hashtag campaigns launched by the body-positive movement. It also comes from retailers, as with Lane Bryant's much-heralded #PlusIsEqual campaign, which has included primetime TV ads and a live fashion show in Times Square. High-profile advocating from retailers, shoppers and professionals alike — including plus-size models — is chipping away at deeply-rooted beauty norms.
Once there's more willingness to create clothes for plus-size women, Olson said, the process shouldn't be rocket science.
"Why can't we simply ask one more question: Would this piece flatter a size 20? A 24? A 28? If the answer is no, throw out the look," Olson said. "If the answer is yes, then you have come up with something that will also flatter every size below it. That shows true innovation and creativity, and you are no longer excluding women from your brand based on size. Adding this one simple step into designers' editing processes has the potential to change our whole industry."
When designers do do this, the response is overwhelmingly positive. The response to one current Project Runway finalist's plus-size runway collection was enthusiastic, as was Marc Jacobs' decision to cast singer Beth Ditto in his fashion show last month.
How will we know when we've achieved success with plus-size clothing? 
When plus-size models, women and clothing are included in the mainstream without fanfare or distinctions.
"I think it would be great if Beth Ditto wasn't made international news," Waldman said. "When we reach a point where I can go on the Internet and buy pants and skirts rather than plus-size pants or plus-size skirts." 
That inclusivity also means changing our language.
"I hope we get rid of the word 'plus,'" Universal Standard's Polina Veksler told Mic. "It's a useful term. It's a shortcut term. But I'd like to see the the concept of plus not exist." 
That's where we seem to be headed, with hashtag campaigns #DropThePlus and #ThisIsPlus that highlight the negative connotations of the word, and push for more diversity in who gets considered "plus-size." Because really, no one of one size is more worthy than any other.
"I think if there's one message I'd want out there is that a size 6 woman does not have better taste than a size 16 woman," Waldman said. "It's about options. With better options, women of all sizes will be able to dress just as equally beautiful."