Chris Harper Mercer Identified as Oregon Shooter; What We Know About Umpqua Gunman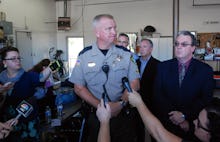 Jeff Barnard/AP
Authorities have identified 26-year-old Chris Harper Mercer as the gunman in Thursday's mass shooting at Umpqua Community College in Roseburg, Oregon. After killing 10 people and wounding seven more, Mercer died in a shootout with police, Douglas County Sheriff John Hanlin confirmed at a Thursday press conference.
According to the first 911 calls, the shooting occurred at 10:38 a.m. PT, according to the New York Times. Shortly before the shooting was reported, Mercer walked into Snyder Hall, a building on campus that houses the science department, and opened fire. 
Responding to the fatal shooting, emergency officials transported staff and students by bus to the Douglas County Fairground, according to an Oregon State Police news release. In the hours that followed, members of the Oregon community waited for information about the gunman to surface.
"All I know is that two students came into our kitchen ... and told us they heard gunshots," Liliana Navarro, a cashier at Umpqua Community College's Logger's Cafe, told Mic shortly after the shooting. "All of a sudden my manager is telling us we need to lock down."
Oregon Sen. Jeff Merkley, a Democrat, joined the conversation on Facebook. "I am absolutely heartbroken by today's news from Umpqua Community College," Merkley wrote in a Facebook post. "I know that the hearts and thoughts of all Oregonians are with the victims, their families and the entire community. I and my team are standing by to assist in any way we can."
Thursday's shooting at Umpqua Community College marked the 142nd school shooting in the United States since the Sandy Hook Elementary School shooting in December 2012. 
Oct. 2, 2015, 8:50 a.m.: This story has been updated to reflect the revised official victim count at Umpqua Community College. 
Correction: Oct. 1, 2015