Obama: "We Should Politicize" the Gun Control Debate After Mass Shooting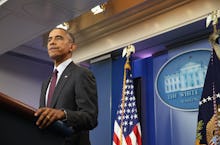 Hours after a deadly mass shooting at a community college in Oregon, President Barack Obama on Thursday said he welcomed a pitched partisan debate over the future of gun control in the United States.
"The reporting is routine, my response here at this podium is routine, the conversation in the aftermath of it — we've become numb to this," Obama said from the briefing room at the White House. "What's also routine is that somebody somewhere will say, 'Obama politicized this issue.' Well, this is something we should politicize. It is relevant to our common life together."
Sounding stern and appearing frustrated, Obama challenged Americans to respond more forcefully to this shooting. "Our thoughts and prayers are not enough," he said. "It's not enough. It does not capture the heartache and grief and anger we should feel."
Obama's statement marked the fifteenth time the president has addressed the nation in the wake of a mass shooting, the last instance coming in the aftermath of the killings in Charleston, South Carolina. As the Washington Post notes, there has not been a calendar week during Obama's presidency in which there has not been a mass shooting incident.
The president noted the frequency of these attacks during his presidency and argued that "politicizing" mass shootings was precisely the response needed to prevent future massacres.
Obama said the FBI and federal law enforcement were aiding in the investigation into the shooting but provided no further details into the motive or identity of the shooter, who was killed by police after an exchange of gunfire.
"Each time this happens I'm going to bring this up," Obama said. "Each time this happens I am going to say that we can actually do something about it, but we're going to have to change our laws. And this is not something I can do myself."
Obama closed his statement on a resigned note.
"I hope and pray that I don't have to come out again during my tenure as president to offer my condolences to the families in these circumstances," he concluded. "But based on my experiences as president I can't guarantee that. And that's terrible to say. And it can change. May God bless the memories of those who were killed today."
Watch Obama's full statement here: