Erykah Badu Just Released a Gorgeous, Soulful Cover of Drake's "Hotline Bling"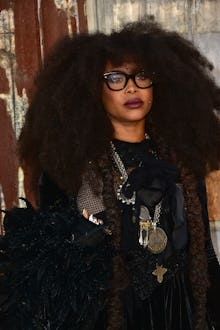 Erykah Badu moves like a specter through the music world these days. One can never predict when and where she's going to show up or what it will sound like when she does. Thursday, she dropped one of her rare, unexpected gems through her newly minted SoundCloud, choosing an unlikely song to cover: Drake's recent Billboard hit "Hotline Bling." Badu keeps the beat mostly the same in the beginning before busting into that soulful, psychedelic territory where she thrives in the latter half.
Source: Soundcloud
The track is prime Badu, dripping with all the laid back, jazzy goodness fans have come to expect from the singer. It features hints of her sly humor. 
"You've reached the Erykah Badu hotline," she quips during the track's breakdown that separates the two sections. "If you're calling for Erykah, press one. If you're calling to wish her a happy birthday, Kwanzaa, MLK, Black History Month, Juneteenth or Hannukah, press two." She has a shadier extension reserved for her fake friends: "If you're calling 'cause you just saw her on BET, MTV or any other social media outlets, and you're checking to make sure you're still in good standing, press three."
The track is Badu's first solo release since her last album, 2010's New Amerykah Part Two: Return of the Ankh. However, she has appeared as a featured artist on various projects, including Flying Lotus' "See Thru to U," Donnie Trumpet & The Social Experiment's "Rememory," Bonobo's "Heaven for the Sinner" and Janelle Monáe's "Q.U.E.E.N." She also released a mixtape entitled Feel Better, World! ... Love, Ms. Badu featuring some classic soul, jazz and funk. She described it as "carefully and lovingly selected high-frequency tones for the soul" in an accompanying message, as reported by Okayplayer.
According to Badu's SoundCloud "Hotline Bling" cover is just first hit of a larger mixtape But U Caint Use My Phone. Fans of the analog girl in the digital world should stay tuned.