Hurricane Joaquin 2015: Tracking the Storm and Where It's Headed Next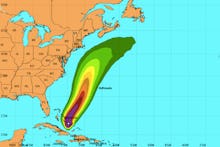 Hurricane Joaquin, the Category 4 storm that's currently wreaking havoc in the Bahamas, will travel north over the weekend, though it's not expected to hit the United States directly. However, many states were on edge as the storm is expected to bring severe weather to some regions. As of 8 a.m. Eastern time Friday, Hurricane Joaquin was centered over the Bahamas with maximum sustained winds of 130 mph, the National Hurricane Center reports. 
The hurricane should leave the Bahamas Friday night and head north over the weekend. "A faster northward motion is expected to begin later today, followed by a turn toward the northeast and an increase in forward speed tonight and Saturday," according to the hurricane center's latest advisory.
The Carolinas, Virginia and New Jersey are the latest states to declare emergencies in anticipation of Hurricane Joaquin. Weather Channel meteorologist Jim Cantore tweeted that the Carolinas, Virginia and Georgia should expect heavy rainfall over the next 48 to 72 hours. Hurricane Joaquin is expected to travel parallel to the East Coast through Tuesday.
Overnight on Thursday, United States forecast models aligned with the European model in predicting that the storm would not make landfall in the U.S., NBC reports. However, forecasters predict severe weather for states along the mid-Atlantic coast. The National Weather Service predicts as much as 10 inches of rain for some areas. The official forecast for the eye of Hurricane Joaquin no longer includes the U.S. East Coast, the Weather Channel reports.
Deep, tropical moisture from the Caribbean Sea and western Atlantic will cause heavy moisture and unprecedented rainfall along the East Coast this weekend. The situation is "serious, with historic and potentially life-threatening rainfall" possible in some locations, especially the Carolinas, according to the report. The possible conditions include flash flooding, river flooding, gusty winds, high surf, beach erosion and coastal flooding.