Rick Owens' "Human Backpack" Runway Show Is Why People Think Fashion Is Kinda Ridiculous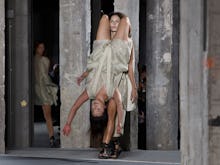 Most people probably aren't keeping up with Paris Fashion Week. Because let's be honest — most people aren't really keeping serious tabs on the high fashion world to begin with, given that it seems so out-of-reach and far from relatable to most people.
Rick Owens' fashion show on Thursday pretty much proved them right. The designer, known recently for his runway gimmicks, sent models down the runway in Paris wearing each other. Yes, you read correctly. Several of the models sported "human backpacks," aka another model strapped onto their back or front.
"The designer cast gymnasts, presumably because they have the necessary strength for this kind of undertaking," noted the Cut.
To be fair to Owens, who clearly knew the move would get attention (dare we say "go viral"?), there was a larger point to be made. As Owens explained New York Times' Matthew Schneier in a statement, the message was about women supporting one another:
"When applied to women, I see that focused vision being more about nourishment, sisterhood, motherhood and regeneration. Women raising women, women becoming women and women supporting women. The world of women I know little about and can only attempt to amuse in my own small way."
It's actually a compelling sentiment, particularly in this era of #squadgoals and increasingly feminist views of friendship. (Taken literally, as Elle.com did with Photoshop, the models could have been holding their own friends.)
And yet that message was certainly drowned out by the absurdity of it all. Certain sites wasted no time pointing out the sexual nature of some of the models' positions, while others noted that the antics reached near-parody levels.
Of course, Owens is the one with the last laugh. Fashion runways may be sites of the absurd and unrelatable, but they often are ignored. No one can look away from humans wearing other humans as backpacks.