13 Gut-Wrenching Newspaper Covers on the Oregon Shooting That Have One Thing in Common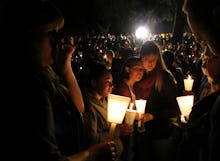 Thursday's mass shooting at Umpqua Community College in Roseburg, Oregon, which left 10 dead and another seven injured, marks the 142nd school shooting in the United States since Sandy Hook just three years ago. To put that in perspective, there has been an average of at least one school shooting every week since 20 children were fatally shot in Newton, Connecticut, on Dec. 14, 2012. Many newspaper front pages Friday acknowledged this, reflecting a growing sense of bewilderment and exhaustion at the prevalence of school shootings.
As President Barack Obama said in a press conference Thursday afternoon, "The United States of America is the one advanced nation on Earth in which we do not have sufficient common-sense gun-safety laws, even in the face of repeated mass killings. ... We've become numb to this."
"Our thoughts and prayers are not enough," Obama said. "It's not enough. It does not capture the heartache and grief and anger that we should feel." 
On Friday morning, many newspapers' front pages reflected the same frustrations Obama shared following Thursday's tragedy. Others expressed sadness and even anger over the continued violence in the U.S., as well as the lack of policy changes and new legislation.
The New York Daily News confronted the rising death toll from school shootings in its front page Friday morning. Oregon's Statesman Journal echoed the president's words, agreeing that "thoughts and prayers are not enough" following such a violent tragedy. 
The Miami Herald noted that Oregon's Umpqua Community College is just the latest in a string of school shootings that has rocked the nation for years. Spanish-language U.S. newspaper La Opinión's morning headline translates to "Another blood bath: condemnation and horror after massacre in Oregon community college." 
Here's a look at how newspapers across the country chose to report the tragedy:
USA Today's weekend edition front page reads, "Fatal mass shooting rocks U.S. — again."
The Denver Post notes the "rising frustration" felt in the wake of Thursday's tragedy, while also pointing to the president's speech in its Friday paper.