Hurricane Joaquin 2015: Weekend Outlook for the Carolinas, Virginia, New York and More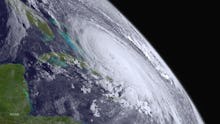 As the Hurricane Joaquin storm watch continues, Americans living on the East Coast welcomed the news that the massive storm is expected to remain offshore. Although experts couldn't rule out landfall entirely, the most likely storm path will see Joaquin veer out into the Atlantic, the Wall Street Journal reports. However, the East Coast is bracing for impact in case the storm path changes. 
Many states on edge: While Joaquin may not touch down on U.S. soil, the East Coast isn't out of the woods yet and will remain on high alert. AccuWeather meteorologists expect the hurricane to affect more than 65 million people, and governors in New Jersey, Virginia and the Carolinas have issued states of emergency.
In New Jersey, Gov. Chris Christie issued a state of emergency and warned residents to prepare for mass flooding, traffic and storm damage. North and South Carolina were already experiencing flooding from a separate weather system, conditions that are expected to continue with the hurricane, the Weather Channel reports. Experts predict historic rains in Virginia because of the hurricane, according to NBC. In New York, Gov. Andrew Cuomo has mobilized the State Emergency Operations Center as a precaution.
"As Hurricane Joaquin makes its way up the East Coast, New York is in a much better position today than we have ever been before, but when it comes to Mother Nature, you can never be too prepared," Cuomo said in a statement. "That is why we are activating the State's Emergency Operations Center and positioning critical resources across the state as we learn more about this developing storm. I urge New Yorkers to exercise caution and stay informed in the coming days." 
The main threat to states bordering the Atlantic will be heavy surf lasting into early next week, ABC7 reports. Despite the storm's pivot out to sea, weather experts have said torrential rain and possible flooding will hit East Coast states and continue into early next week, according to CNN. 
A "dangerous" storm: On Wednesday, meteorologists upgraded Joaquin to a Category 4 hurricane and the National Hurricane Center labeled the storm "extremely dangerous." Hurricanes are ranked on a scale from one to five; 2012's devastating Hurricane Sandy was a Category 3 storm. 
With a Category 4 rating, Joaquin is not to be underestimated. The storm is moving with sustained maximum winds at 130 mph and has wreaked havoc as it moves across the Bahamas and crawls northward at a pace of 3 miles an hour, according to AccuWeather's reports. 
High winds and heavy rainfall have caused major flooding in the Bahamas. 
Experts agree that keeping an eye on the storm path is key. "We're at the point we still need to stay aware," said Rachel Aissen, a meteorologist for CNN. "It could still shift." If that shift doesn't happen by Friday evening, she added, the massive hurricane will likely stay offshore. 
As for hurricane season, the east coast is in the thick of it. The Atlantic's hurricane season runs from June 1 to Nov. 30, according to the National Hurricane Center.