Watch Childish Gambino Cover Tamia's '90s Classic "So Into You"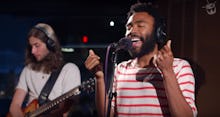 Donald Glover knows few limits as a performer. By the time this year is through, he will have danced in Magic Mike XXL, dropped science in his upcoming film The Martian and slayed the festival circuit, including a blistering set at Bonnaroo in which he debuted a new song. 
Between all this (and working secretly on a new album) Glover has still found time to make the music rounds as Childish Gambino. Thursday he stopped by Australian radio's Triple J Like a Version series to spit some hooks, recording a rendition of Tamia's '90s classic "So Into You," a stripped down R&B jam with just snaps, no percussion. 
It's a reminder that Glover can sing his ass off, in addition to rapping, acting, writing and directing.
"It's kinda one of my favorite songs," Glover tells his hosts before letting loose. "It's just a really cool, sexy song, and then I dated a couple girls who've said 'I love this song.' It's a very pretty song." He keeps this prettiness front and center, nailing all of the song's subtle vocal lilts and phrasings, deliberately choosing not to try and imitate the Fabolous version that came out in 2000.
The new song that Glover debuted at Bonnaroo was also rapless, and these two recent offerings may be a sign that Glover is looking to focus more on R&B going forward. During an interview with Today in February, he revealed his days as Childish Gambino may be numbered.
"I guess Childish Gambino is a period in my art time," he said. "I want to have periods in my life. I feel like Childish Gambino is a period that should come to a close. I like endings." 
In a later interview with MTV, he clarified he wasn't leaving music, but was instead looking to progress and change as an artist. Perhaps this cover offers a glimpse at this new musical persona. Only time will tell.