Watch One of the Greatest Novelists of All Time Turn Drake's Lyrics Into Poetry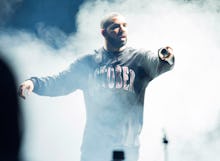 Drake's music is poetry. Sometimes the 6 God's ostentatious displays of wealth, darkly triumphant beats and generally mopey personality overshadow that pure lyricism, though. Many still don't understand. Thankfully, Salman Rushdie, one of the modern era's most esteemed novelists, is here to correct that. 
The author recently took the time during an interview promoting his new book, Two Years Eight Months and Twenty-Eight Nights, to recite some of Drake's lyrics and access their quality.
It doesn't seem like Rushdie has actually ever heard any of the songs in question. Still, reciting the lines in free verse he shows some appreciation for some of the lines in "Forever," "Know Yourself," "What's My Name?," "6 p.m. in New York" and "6 God."
Rushdie is especially delighted by Drake's verse on Rihanna's "What's My Name?" After quoting "Okay, away we go/ Only thing we have on is the radio," he says he appreciates the nod to Marilyn Monroe. "When she posed in the nude and she was asked if she had nothing on, she said 'I had the radio on,'" Rushdie says.
Perhaps now that Rushdie has put his distinctive stamp on Drake's music, the haters will understand.
Watch the full video below.
h/t Billboard