Modest Mouse's Next Album Is Coming in 2016 — This is What We Know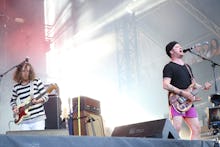 Indie-rock outfit Modest Mouse released its first studio album in 1996, and it appears the powerhouse act is still going strong. Spearheaded by frontman Isaac Brock, the band is expected to release its seventh studio album in 2016, Pitchfork reports. Far from losing steam, Brock is ready to stir things up with the potential album title "Whabever." Here's the latest on the expected release info and sound. 
"I just wanted to go as dumb as fucking possible," Pitchfork reported. "Mainly to be antagonistic and just 'cause I kind of thought it was funny." The album would follow the band's sixth studio album, Strangers To Ourselves, which surfaced in March. 
Expected release info: For a band that has been around for over two decades and released six albums, prolific is not a word to describe Modest Mouse. And with a record just released in March, it seems doubly unlikely another album could follow next year. 
Yet Brock's confident in a 2016 release date and is sticking to his convictions. So why the steadfast resolution? Modest Mouse allegedly wrote many of the songs that will appear on "Whabever" during the Strangers To Ourselves writing and recording process. "We basically made two records at the same time," Brock explained in an interview with Hot Press in March. "Which, if people look at it that way, cuts down the amount of time it took us to make this record in half."  
Sound: Fans can expect a supercharged sound on Modest Mouse's forthcoming album, as the record will include the stylings of famed former Nirvana bassist Krist Novoselic. The bassist's part "sounds like a bunch of boulders falling down a mountain," Brock told Hot Press. That's likely a good thing, considering Modest Mouse built its brand on carefully crafted dissidence set to masterful, emotionally intelligent lyricism. 
While we wait for more news to surface, head here to stay up to date on Modest Mouse's tour schedule — or whateber.