Hillary Clinton Says She Would Handle Syria Much Differently Than Obama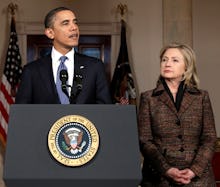 Hillary Clinton wants to clear the increasingly crowded skies over war-torn Syria.
In a departure from United States policy under President Barack Obama, Clinton on Thursday said she would seek to impose a no-fly zone in order to help clear a path for the safe movement of civilians caught up in the country's escalating refugee crisis.
"I personally would be advocating now for a no-fly zone and humanitarian corridors to try to stop the carnage on the ground and from the air," Clinton told WHDH in Boston after a campaign event in the area. 
The Russia problem: The former secretary of state made her comments on the second day of a new Russian air campaign that Moscow claims is designed to target the Islamic State group and other extremist factions. But U.S. officials are skeptical. Earlier Thursday, White House press secretary Josh Earnest cast doubt on Russia's intentions. 
"Early indications from the Russian military operations is that despite their claims that they're focused on ISIL, they're actually carrying out military operations where there are few, if any, ISIL forces operating," Earnest said during his daily briefing. "So it certainly calls into question that declaration." 
On this point, Clinton seems to agree. 
"I think Putin is playing a very dangerous and cynical game," she told WHDH. "He's clearly doing everything he can to prop up [Syrian President Bashar] Assad and to establish sort of a Russian presence in Syria and the broader Middle East."
The Russian government has close ties with the regime in Syria, led by Assad. Critics believe Putin is targeting the moderate rebel groups who have been progressing in their long mission to unseat Assad, despite Russia's claims to the contrary.
Earlier in the week, Earnest said a no-fly zone was "not something [the administration is] considering," because it would create "a whole set of logistical questions about how exactly what would be enforced." 
Russia joins at least 10 other countries currently deploying air power over Syria as part of a vast and increasingly vague campaign meant to halt the spread of the Islamic State group and, in the process, stake a claim in the unraveling country's next act. The U.S. has been bombing their positions in Iraq and Syria for more than a year. 
Uncoordinated: Despite a number of overlapping interests, it is highly unlikely that the Russian government would agree to a no-fly zone in the region.
"When some state or a country becomes an object of a terrorist attack, you can't leave the country to fend for itself," Russian foreign minister Sergey Lavrov said during a tense press conference at the United Nations Thursday. "You need an international coordinated action."
So far, the action has far outpaced any meaningful coordination.
Earlier in the week, Obama had a brief meeting with Putin on the sidelines of the United Nations General Assembly gathering in New York. The administration is ramping up efforts to "deconflict" the region, which has been swallowed whole by nearly four years of civil war and more than 250,000 deaths. They left the table after a few awkward photo ops with little to show for it.
By Friday morning, the U.S.-led coalition had gone public with their growing concerns over Russia's actions. 
In a joint statement with six allies, including Germany and Turkey, the U.S. condemned recent attacks "which led to civilian casualties and did not target [the Islamic State group.]" ? 
"We call on the Russian Federation to immediately cease its attacks on the Syrian opposition and civilians and to focus its efforts on fighting ISIL," the statement reads.