Will Smith Makes Rap Comeback in "Fiesta" Remix with Bomba Estéreo and It's Streaming Now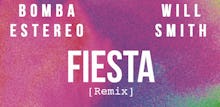 The rap industry simply hasn't been the same type of party since Will Smith bowed out in 2005. For his re-entry onto the music scene, the "Men in Black" rapper released a surprise remix to Bomba Estéreo's "Fiesta" on Friday, and it's streaming via the Colombian electric group's YouTube Vevo channel. 
The actor and artist's latest hit is Smith's first in 10 years. His fourth studio album Lost and Found was released in 2005 by Interscope Records. 
While the song is actually from Bomba Estéreo's album Amanacer, released in June, Smith jumps in about a minute into the song, which features quick electronic beats and Spanish lyrics.
"Couldn't let the beat go by without a feature," Smith raps as the beat stops and the rapper is introduced in the summer smash. "Because it's hot shit only, you know me/ OG high class and low key/ Trying to find me a Sofia Vergara on the dance floor to tear up."
The remix is a true party hit, with a focus on club beats and heavy bass. Listen below: