T-Mobile Data Hack: How to Know if You Were Impacted by Experian Data Theft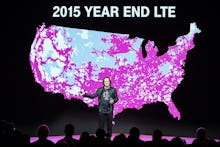 Experian, one of the United States' top three credit vendors, announced Thursday hackers had accessed the data of approximately 15 million T-Mobile customers worldwide, the Chicago Tribune reports.  
The T-Mobile hack, according to a statement on Experian's website, didn't include credit card info but did include "records containing a name, address, Social Security number, date of birth, identification number ... and additional information used in T-Mobile's own credit assessment."
Customers who are at risk are those who applied for T-Mobile wireless service between Sept. 1, 2013, and Sept.16, 2015, according to Experian. 
In a statement about the data hack, T-Mobile's CEO John Legere has said he will be evaluating the company's relationship with Experian. "Obviously I am incredibly angry about this data breach and we will institute a thorough review of our relationship with Experian, but right now my top concern and first focus is assisting any and all consumers affected," he wrote. 
However, both Experian and T-Mobile are looking to make it right with the large number of customers affected by the hack. Both companies will be offering two years of free credit monitoring, according to CNN Money.
Anyone affected by the hack can go to  www.ProtectMyID.com/SecurityIncident and sign up for credit monitoring. Experian has also offered a phone number, 866-369-0422, and email address, consumersupport@protectmyid.com, for customers to get personal assistance setting up credit monitoring. 
The security breach is unfortunately not uncommon in today's online world. According to the Identity Theft Resource Center, there were 783 data breaches made in 2014 on U.S. organizations, an increase of 27.5% over 2013. 
Of the 5,000 data breaches the identity theft center has seen since 2005, a majority of them go undisclosed. Adam Levin of IDT911 told the Identity Theft Resource Center that "many breaches fly under the radar each day because there are many institutions that prefer to avoid the financial dislocation, liability and loss of goodwill that comes with disclosure and notification."