Presidential Election 2016: Where Every Major Candidate Stands on Planned Parenthood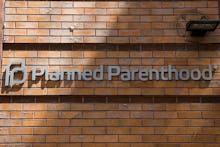 Divisiveness about the government-funded family planning organization is at a tipping point. On one side of the fence, some conservatives are pushing to defund the organization. In August, an anti-abortionist group called the Center for Medical Progress released footage of a Planned Parenthood doctor discussing the alleged and illegal sale of fetal tissue. Planned Parenthood denies the allegations, but the footage continues to color the debate and is being used as ammo to fuel the cutback agenda.
On the other side of the field, Planned Parenthood supporters argue that a fraction of the organization's health services pertain to abortions. According to the Washington Post, 3% of Planned Parenthood's services are for abortions.
Come December, the House and Senate won't be able to fall back on the stopgap spending measure, meaning the debate surrounding Planned Parenthood will likely resurface in full force, especially with the 2016 Election to be decided in the next year. Ahead of that battle, here's a list of leading presidential candidates and his or her stance on Planned Parenthood. 
This is where the top 2016 presidential candidates stand on Planned Parenthood
Carly Fiorina: Former Hewlett-Packard CEO and Republican candidate Fiorina is hotly opposed to Planned Parenthood. During a Sept. 16 GOP debate, Fiorina pointed to new footage of an alleged abortion that adds to the earlier tapes. Fiorina used the footage as her platform to attack Planned Parenthood and challenged former Secretary of State Hillary Clinton and President Barack Obama to watch the attack tapes. There's reason to believe the footage depicts a miscarriage, Mic reported, not an abortion. 
Bernie Sanders: The independent Vermont senator running as a Democrat is against defunding Planned Parenthood. In an interview July 31 with Univision's Jorge Ramos, Sanders didn't veil his stance. 
"I will defend Planned Parenthood," Sanders said. "I think a lot of this attack, to be honest with you, comes from people who simply do not believe that a woman should have a right to control her own body. That's the motive."
Last week, Sanders called attempts to defund the organization "an attack on women's health."
Ben Carson: The retired neurosurgeon and GOP candidate is one of the Planned Parenthood's most vocal opposers. When CNN pressed Carson in July with the fact that Planned Parenthood doesn't put federal funding toward its abortion services, Carson said, "I thought that they were supposed to be able to get all those things based on Obamacare. Why do we need Planned Parenthood?"
Marco Rubio: The Republican senator from Florida doesn't mince words when it comes to the women's health organization. "There can be no denying that Planned Parenthood is a morally bankrupt organization," Rubio wrote in August in a guest column for Life News. "Planned Parenthood should never receive another dime from American taxpayers."
Jeb Bush: Florida's former governor, a Republican, is a major Planned Parenthood opposer.
"I, for one, don't think Planned Parenthood ought to get a penny," Bush said at a town hall in Englewood, Colorado, in August. "And that's the difference, because they're not actually doing women's health issues. They are involved in something way different than that." Bush also had a hand in defunding Planned Parenthood in the Sunshine State when he withdrew funding from the organization in 2001. 
Martin O'Malley: The Democratic candidate and former Maryland governor and Planned Parenthood see eye to eye. In 2010, Planned Parenthood honored O'Malley for "his outstanding leadership in protecting and advancing reproductive rights in Maryland."
In July, O'Malley quasi-defended the organization when he told reporters in New Hampshire, "I do know that 97 percent of the work that Planned Parenthood does is about mammograms and preventative health," according to the Washington Post.  "That's what I know but I'll defer to others for commenting on that video and whatever videos they're pumping out there."
Technically, Planned Parenthood doesn't provide mammograms; the organization offers referrals for care. 
Donald Trump: Real estate mogul Trump is an unlikely supporter of Planned Parenthood and said he disagrees with using federal funding for abortions. In an interview with CNN in August, Trump was asked if he would support funding for Planned Parenthood if elected. 
"What I would do when the time came, I'd look at the individual things they do, and maybe some of the individual things they do are good," the Republican candidate said. "I know a lot of the things are bad. But certainly the abortion aspect of it should not be funded by government, absolutely." 
Previously, Trump said he would "shut down the government" over Planned Parenthood. 
Hillary Clinton: The former secretary of state is one of Planned Parenthood's biggest advocates. In August, the Democratic presidential candidate took a definitive pro-Planned Parenthood stance when she released a campaign video supporting the organization. 
"I'm proud to stand with Planned Parenthood," Clinton said in the video. "I'll never stop fighting to protect the ability and right of every woman in this country to make her own health decisions."
And in September, speaking to CNN, Clinton argued Planned Parenthood doesn't use federal funding to pay for abortions.
Correction: Nov. 2, 2015