Ty Dolla $ign New Album Set to Release in 2015: Here's What You Should Know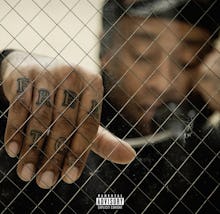 Although Ty Dolla $ign exploded on the rap scene last year with his smash hit "Or Nah" featuring The Weeknd, he's yet to release a studio album. That's all about to change, however, as the Los Angeles based rapper's debut album Free TC has an official expected release date this year: November 13. With classic Ty sound and guest artists heavily featured, the anticipation is growing.
Free TC, titled in dedication to his incarcerated brother, who the rapper says is being jailed for a crime he didn't commit, was made "for a purpose," according to Ty. "He's locked up for something that he didn't do," he told Rap-Up TV. "It's many people out here that get injustice, as you've seen Mike Brown, Trayvon Martin, everything that's happening on the news right now. It has a purpose. It's gonna be the biggest album of 2015."
The debut album is set to include exciting features from big names in the hip-hop industry, a 16-song track list and a number of hits from top producers in the industry like DJ Mustard, according to iTunes. Here's what we know:
Release date is Nov. 13: Ty announced the album would be released in November with an immediately available preorder that gives listeners access to the album's first three singles, including "When I See Ya," "Blasé" and "Only Right." 
Guest artists: Free TC will include 16 songs and features from some of the biggest names in the industry. "When I See Ya," one of the first singles released from the upcoming album, features the summer hit rapper Fetty Wap, who recently released his own new music. "Blasé" is another track, featuring fellow artists Future and Rae Sremmurd. The additional 13 song titles have not yet been released.
Ty already released a music video to accompany "Blasé" in anticipation of Free TC's release, and he unveiled a second music video for "When I See Ya" Friday morning. Check out the new song below:
Sound: Although the artist has yet to release a studio album, the internet houses several mixtapes, featured verses and leaked projects from the artist which speak to the consistency in his rapping. The club-hit performer's latest singles "Blasé" and "Only Right" fall in line with the artist's previous jams, while "When I See Ya" featuring Fetty Wap feels like the sequel to "Or Nah" featuring The Weeknd. 
Free TC is available for preorder on iTunes.