Here's What Gun Control Advocates Are Doing to Prevent the Next Oregon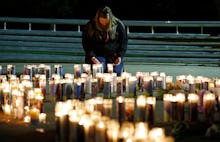 An Oregon community is in mourning Friday after a 26-year-old gunman killed 10 and wounded seven others at the Umpqua Community College in Roseburg. The shooter was killed by police shortly after Thursday's rampage began.
The event marks the 142nd school shooting since the December 2012 massacre at Sandy Hook Elementary School, which left 20 children and six adults dead before the gunman died by suicide. The grim statistic is also a marker of the government's failure to stem an epidemic of mass shootings that even President Barack Obama has called "routine." 
"The reporting is routine, my response here at this podium is routine, the conversation in the aftermath of it — we've become numb to this," Obama said at a White House press conference Thursday. 
There are those who are trying to break the cycle. "The same Congress we had before Sandy Hook is the one we had after," Shannon Watts, the founder of gun control advocacy organization Moms Demand Action, told Mic. Watts has never personally experienced gun violence, but said she was moved to start Moms Demand Action after Sandy Hook. "I said, 'I'll start a Facebook page,' thinking this will be an online conversation with other moms," she said. "What it quickly became was the Moms Against Drunk Driving for gun reform."
Today, Moms Demand Action has growth quite a bit, with more than 420,000 followers on Facebook. 
A quick look at the political landscape, however, reveals that any attempt at legislative reform will be an uphill battle.
While Sandy Hook prompted the National Rifle Association to address public outrage in a rambling press conference where Executive Vice President Wayne LaPierre Jr. resurrected the much-maligned idea of bringing armed security to American schools, the attack in Oregon has prompted nothing. Since the shooting, the NRA has not issued a public statement and its Twitter has, so far, made no mention of the tragedy. Their Facebook page, too, was mum on the news.
The NRA did not respond to Mic's request for comment. 
Going forward: With federal approaches repeatedly stalled, Watts pointed to greater success at the local level. "We've been fighting on the ground for three years," said Watts. "I think this is very quickly becoming a single-issue vote for women and mothers in this country."
In areas where gun control advocates have been blocked by hostile legislatures or governors, the fight has been taken directly to the people in the form of ballot initiatives. Watts cited her group's role in a successful 2014 ballot initiative in Washington state, which mandated universal background checks for almost any firearm sold in the state. The measure passed with nearly 60% support from voters. Moms Demand Action, which spearheaded much of the signature campaign, often assumes the difficult and expensive groundwork. 
Another critical component is defense. Just as often as gun control advocates are advancing new measures to limit access to firearms, they are also working against bills that would do the opposite. In Colorado, the group played an instrumental role in the defeat of legislation that would have repealed background checks and brought firearms into public schools. The group claimed a similar victory in North Carolina, where they helped pressure the state legislature into defeating a bill that would have allowed handgun purchases without background checks. 
Still, with nationwide solutions only possible at the federal level, advocates on both sides have their work cut out for them. 
"This is a marathon, not a sprint," Watts said.