Is Jon Snow Dead? Maisie Williams Just Dropped a Bombshell About 'Game of Thrones' Star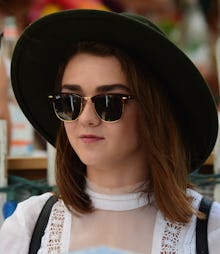 Like winter, spoilers are coming. Proceed with caution.
Maisie Williams, who plays Arya Stark in HBO's hit series Game of Thrones, is "very sorry" to confirm that Jon Snow is, in fact, dead. In an interview with London-based radio station Absolute Radio, host Christian O'Connell pressed Williams on the fate of Kit Harington's character, Jon Snow, who at the end of season five was not sporting his best look. 
During the interview, Williams said Harington's character is most certainly dead. "People are constantly asking me [if Snow is alive] and the answer is 'no,' I'm very sorry,'" she told O'Connell. "Yeah, he's dead."
"I'm not a liar," she added. "I'm very sorry. I would know, of all people, after all. I'm the one who has the script here!" Check out the full interview:
Despite HBO producers insisting that Snow's pulse is not up for debate, diehard Game of Thrown fans resolutely refuse to believe he's gone for good. 
To be fair, evidence is mounting that supports the theory we haven't seen the last of Harington. The actor has been spotted in Northern Ireland, where the cast is busily filming the series' sixth season. Others point to Harington's hair, which the actor continues to style à la Snow, as proof. Fans balked when Harington confirmed Snow's death, but the actor later told Belgian magazine Humo, "Game of Thrones will remain a part of my life for a while. I'll probably be in my thirties when it's over." Harrington is 28. 
The truth about Snow's death will undoubtedly remain a mystery until season six kicks off, which could be April 3, 2016, according to Digital Spy. The suspense is killing us.