The Pope Met With a Gay Couple and There's a Video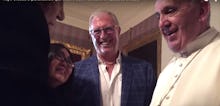 Prior to his meeting with Kentucky county clerk Kim Davis in Washington, D.C., during his historic trip to the United States, Pope Francis also met with a longtime friend of his from Argentina who has been in a same-sex relationship for 19 years, CNN reports. 
Yayo Grassi brought his partner Iwan Bagus and several friends to visit the pope at the Vatican Embassy on Sept. 23. 
A video of the encounter features Grassi introducing Francis to several of his friends who were overcome with emotion. Grassi and Francis are seen smiling and laughing together. The video does not identify Grassi's partner, nor does it show the pope engaging in any substantive dialogue beyond warmly greeting those in the room. 
Grassi did not disclose any details about the meeting with CNN, but he did say that he and the pope had arranged the visit personally via email a few weeks ahead of his trip. 
"Three weeks before the trip, he called me on the phone and said he would love to give me a hug," Grassi told CNN. 
As the pope left the United States, reports surfaced of a meeting with Davis. Her legal counsel, Matthew Staver, issued a press release confirming the meeting, which he spun as an endorsement for Davis.
Aboard a flight back to Rome after his trip, Francis told reporters, "The conscientious objection is a right that is a part of every human right. It is a right." The Vatican said in a statement Friday the meeting with Davis "should not be considered a form of her support of her position." The release also stated that "the only real audience granted by the pope at the nunciature (embassy) was with one of his former students and his family."
"That was me," Grassi told CNN. He told CNN that he believed Francis was "misled" into meeting with Davis. 
According to Grassi, Francis was his literature and psychology professor during the 1964 school year at Inmaculada Concepcion high school in Flores, Argentina. He said Francis has always known that Grassi was gay and has never maligned his sexuality or his relationships. Grassi and his partner have met with the pope privately in Rome, as well. 
"Obviously he is the pastor of the church and he has to follow the church's teachings," Grassi told CNN. "But as a human being, he understands all kinds of situations, and he is open to all kinds of people, including those with different sexual characteristics."