Alabama Just Made It Even More Difficult for People to Vote — Especially Minorities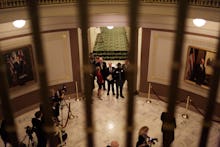 Alabama's top election official said Thursday that the decision to scale back services at 31 driver's license bureaus across the state — a state where officially recognized photo identification is required at the voting booth — would not infringe on the constitutional rights of residents in the hardest-hit counties.
Of the state's 10 counties most heavily populated by minority voters, eight will see their easiest access to valid ID disappear, according to a scathing op-ed from AL.com columnist John Archibald. Alabama Secretary of State John Merrill responded a day later, saying in a statement that the offices of the Board of Registrars would pick up the slack and, failing that, he would send "our mobile ID van and crew" to areas affected.
The response: The decision has elicited heated criticism from Democrats, most notably presidential primary candidate Hillary Clinton.
"Just a few years ago, Alabama passed a law requiring citizens to have a photo ID to vote," she said, referencing legislation enacted in 2014, in a statement emailed to reporters on Friday. "Now they're shutting down places where people get those photo IDs. This is only going to make it harder for people to vote.  It's a blast from the Jim Crow past."
The decision to cut the jobs and shutter the offices comes as the result of a statewide budget shortfall. Still, as Archibald notes, the scale and impact of the cuts are not being felt evenly around the state. "They are deepest in the Black Belt," he writes. "The harm is inflicted disproportionately on voters who happen to be black, and poor, in sparsely populated areas."
"Supreme" shame: More than any other state, injustice and violence in Alabama has been the driving force for some of the country's most potent civil rights reforms.
It was in the city of Selma, on March 7, 1965, that hundreds of nonviolent demonstrators marching in support of the Voting Rights Act were set upon and beaten by state police as they tried to cross the Edmund Pettus Bridge. The bill was passed in Congress and signed by President Lyndon Johnson less than five months later.
But the protections delivered then were torn down in 2013, when the Supreme Court gutted the law in a 5-4 decision. Writing for the majority, Chief Justice John Roberts said then that "our country has changed" and constant oversight was no longer necessary. Because of the court's ruling in Shelby County v. Holder, Alabama was able to go forward with the DMV closures without seeking federal approval. 
During a commemoration of the "Bloody Sunday" voting rights marches earlier this year, President Barack Obama called on the hundred members of Congress who made the trip down south to return to Washington, D.C., and "pledge to make it their mission to restore the law this year."
To date, they have ignored his plea.