Will Hurricane Joaquin Hit Washington DC? Updated Tracker and Storm Path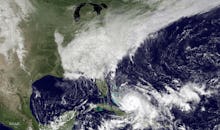 As Category 4 Hurricane Joaquin continues to strengthen, its path veering away from reaching landfall in the United States, analysts remain uncertain as to whether or not the storm will be detrimental to areas along the East Coast. 
Originally considered "extremely dangerous" according to the National Hurricane Center, Joaquin now looks as though it will only bring heavy rain and some major flooding in the Washington D.C. area, analysts say. The storm appears likely to continue moving north over the weekend. 
According to the Washington Post's Capital Weather Gang, "Flooding remains a major concern due to rain indirectly linked to Joaquin and its interaction with a lingering cold front that is actively drawing deep, tropical moisture up the East Coast and squeezing it out like a wet rag."
The Washington, D.C., metropolitan area will likely see heavy rainfall throughout the weekend. Reports indicate that 2 to 4 inches of rain will hit the capital on Friday. Wind could pose damage to the area as well, as forecasters are expecting the storm winds to will stain anywhere from 10 to 30 mph. While states like North and South Carolina and New Jersey have declared states of emergency, Joaquin itself will likely eventually dissipate over the Atlantic ocean rather than making landfall near Washington.
Joaquin was passing over several islands in the Bahamas on Friday morning, causing infrastructure damage and severe flooding throughout affected regions. The Weather Channel reports the storm caused a "total blackout" in the three most badly stricken islands.