Lady Gaga Has Reinvented Herself — And Her Haters Won't Be Able to Recognize Her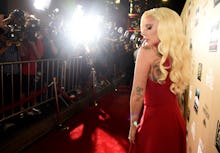 Even in a relatively quiet year for Lady Gaga, every word she offers explodes into a conversation in the pop world. The announcement she'll costar in the upcoming, American Horror Story: Hotel, premiering Wednesday on FX, sparked equal outpourings adoration and shade. So far, she's dropped two singles, both warmly received. One is a harrowing account of surviving sexual assault, led to an unlikely partnership with New York Gov. Andrew Cuomo to promote legislation combatting campus rape; the other, a classic dance track that gave her an opportunity to flaunt her personal brand of oblong sexiness. 
The vast divide between the tracks offer a compelling a glimpse at the Lady Gaga of 2015. She's equally comfortable wearing meat dresses and a politician's pantsuit. Pop music hasn't overlooked her efforts, either. In December, she will accept Billboard's Woman of the Year in the first televised broadcast in the award's 10-year history. 
The woman who will take the stage looks markedly different from the Gaga who burst onto the pop scene seven years ago thirsting for her "Disco Stick." It's still a vital part of her repertoire, as evidenced by her most recent release: a cover of Chic's "I Want Your Love" produced by disco legend Nile Rodgers. Yet this is an important distinction. This hedonistic, glossy couture is now only one face of the expanding personality that is Gaga.
A new Gaga's birth: The fact that Gaga has been able to create as much intrigue as she has this year following the critical flop of her last project solo project, 2013's Artpop, is a miracle in and of itself. For many, that album revealed an artist at an uninspired crossroads. Its 15 tracks vacillated between the laser-lit exuberance of her early days and the mature poise of her later work. However, its "lack of substantial personal connection and its tenuous grasp on reality makes it a tough record to like," the AV Club wrote. PopMatters described it as "confused, disengaged and at its worst, just downright bored."
Gaga responded with an unexpected redirection, baring a side of herself that critics and audiences couldn't possibly accuse as being a dim reflection of her early shock and awe antics. She went full soulful crooner. 
She took her 2011 cover of "The Lady Is a Tramp," recorded for Tony Bennett's Duets II, and turned it into a full-length collaborative project. Cheek to Cheek offered her an opportunity to show off that which actually made her a star in the first place: her voice. The Oscars in February gave her an even larger platform to prove the same, and her performance earned the admiration of one of music's most divine performers, Julie Andrews.
Gaga can sing, and beautifully at that. Pair that voice with a powerful message, and you have a celebrity force to be reckoned with.
Gaga the activist: Her recent single, "Til It Happens to You," appears in the documentary film Hunting Ground, which addresses campus rape culture. The song captures Gaga's recent artistic in stark relief, the lyrics showcase Gaga's resonant voice, while the video depicts the horrors of sexual violence with an appropriately devastating amount of gravity.
In an interview with Howard Stern last December, Gaga revealed she was sexually assaulted. "It happens every day, and it's really scary, and it's sad," Gaga told Stern. "It didn't affect me as much right after as it did about four or five years later. It hit me so hard. I was so traumatized by it that I was like, 'Just keep going.' Because I just had to get out of there." 
Gaga showed her dedication to helping others work through the impossible emotional complexity that accompanies sexual violence by extending the song's advocacy into the realm of politics. "We have a responsibility to the young men and women of this country to stand up against sexual violence everywhere," Gaga wrote alongside Cuomo in an article promoting their Enough Is Enough legislation on Billboard. "Everyone — from lawmakers and educators to advocates like Born This Way Foundation and the students themselves — need to join forces on this issue."
The urgency with which Gaga spoke out has earned a number of fans and supporters and helped her signal a shift in her artistry. However, she's determined not to let her sexual violence activism define her career. "I'll be damned if somebody's going to say that every creatively intelligent thing I've ever done is all boiled down to one dickhead that did that to me," Gaga told Stern. 
It will not do that. All that it's shown the world is how her always explicit, in-your-face all-the-time artistic tactics have a wide array of applications than most would ever assume. John Legend and Miley Cyrus have already proved artists can dedicate themselves to social causes without having them define and derail their careers. The fact that Gaga's work has earned a nod from Billboard during a year when Twitter beefs made up the biggest stories in music is a hopeful sign that audiences and industries are down to celebrate pop with a purpose, without allowing it to pigeonhole artists.
This year more than any other proved there is a keen, organic talent behind the flying dresses and vomit-filled performances. When Lady Gaga begins to promote her fifth studio album sometime next year, her entire pop persona will come packed with a whole new depth. Perhaps the haters will finally take note.