Effie Brown Is So Much More Than the Producer Who Fought Matt Damon About Race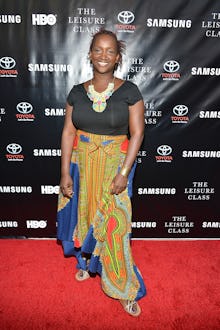 It's early in the fall TV season, but one winner is already making herself apparent. You won't find her on a network TV show, or even on basic cable. She's not a character either — at least, not in the fictional sense of the word. 
Her name is Effie Brown, and in a relatively sleepy time for television, she is its breakout star.
If Brown's name isn't immediately familiar, that's unsurprising. Despite dozens of articles written about her, she's been referred to first and foremost as the "black filmmaker" whom Matt Damon talked over in the season premiere of Project Greenlight. As a producer working on this season's film, directed by scrappy up-and-comer Jason Mann, Brown brought up questions of representation and diversity. She was silenced for her efforts.
That moment rightfully made Damon a public punching bag, while Brown came out with a whole new platform. She's gained a following online, inspired thinkpieces about diversity in the industry and won new representation. On a show that seems to want to make her the villain, Brown is standing strong and saying, as she did on Sunday night's new episode, that she "will not be painted as the Angry Black Woman." Brown has already proven she's exactly the type of person to turn a moment into momentum.
Beginnings: Brown got her start as a film student at Loyola Marymount University in Los Angeles, though even getting into that program was something she had to fight for. 
"I had come from Jersey, I didn't have a Super 8 camera — that was a rich kid thing — so I got into LMU on theater," she said in an interview with the blog Le Noir Auteur. She had to convince a professor to let her in to the film program. "So I went over and barged into his office and was like, 'Look, you don't have any women here or people of color, and I am going to be big. Just you wait.'"
It was an early lesson for her. "Not everyone may be looking for you, but you have to have the drive," she said. "There are also people out there who will support you, but you have to be willing to take the extra step."
That drive helped her land a career as a producer. In her 18 years in the industry, she's racked up 53 production credits. Her career spans from early line producing work on indies like But I'm a Cheerleader to a bigger role as a producer on notable movies like 2007's Rocket Science.
"I'm drawn to things that I haven't really seen before — I have a big love for extraordinary stories about ordinary people. That's my thing, that's what I love," she said in a 2011 interview with StarPulse. "Rocket Science was about a stutterer who goes into the world of high school debate, so I look for things that aren't too precious. I like the little ugly bits of life — I call them 'fucked up little ditties.'"
Race and White People: Brown brought her experience producing into several different fields. She worked on a host of web series and films produced by WIGS, a female-focused production channel. Yet her most prominent "ditty" of all is 2014's Dear White People. 
Brown served as a producer on director Justin Simien's breakout film, which took Sundance Film Festival by storm last year. Dear White People performed respectably at the box office, especially for a small independent film about race relations at a fictional Ivy League college. 
To have a film about race be her biggest professional credit feels appropriate for Brown, who hasn't been shy about talking about diversity in the industry.
"The challenge is that the powers that be, without being vague, being that films that have black actors and quality black actors and talent behind them don't get the type of budget and financing that lesser actors who, maybe not ethnically specifically, get," she said in an interview with BlackFilm.com in 2007. "That's the thing that I'm running up against, and I'm a little surprised at that. I really thought that we were beyond that. I'm doing okay, but it's still surprising."
Why her success matters: On this season of Project Greenlight, Brown serves as the sole woman of color in a sea of white men. She fights to be heard when men like Damon and Peter Farrelly silence or undermine her. Her defiance against that treatment, while being savvy enough to acknowledge the "angry black woman" reality show trope the series is trying to force her into, is a compelling combination.
Damon and producing partner Ben Affleck may not have realized when they shot this season that they were making a show about diversity in the film industry. Yet Brown is taking it there in style. She's highlighting major issues and starting a conversation about a world so unfriendly to minority talent. Who cares whether the movie comes together? Brown is telling the far more interesting story.
Even if all the white men on the show hate her by the end, Brown is making her point come hell or high water. She deserves all the credit for fighting for that — and all the success that will follow her after the season ends.