The Vatican Just Fired a Gay Priest the Same Day He Came Out, Revealed He Had a Partner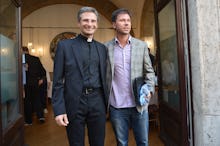 On Saturday, the Vatican fired Monsignor Krzysztof Charamsa, a Polish theologian, from his Holy See post after he came out as gay and revealed that he has a partner to an Italian newspaper.
Reuters reports the Vatican's decision comes only hours before Pope Francis is due to open the Synod on the Family, where bishops will gather to discuss the Church's stance on a host of family issues, including an official position on gays in the church. 
Charamsa, 43, had worked at the Congregation of the Doctrine of the Faith, which oversees Church doctrine, since 2003. Charamsa also taught theology at Rome's Pontifical Gregorian University and Regina Apostolorum University. The Vatican's decision means he will prohibited from teaching at any pontifical universities.
Charamsa came out in an interview with Italy's Corriere della Serra. He not only told the paper that he was gay, but that he had a partner. 
"The decision to make such a pointed statement on the eve of the opening of the synod appears very serious and irresponsible, since it aims to subject the synod assembly to undue media pressure," the Rev. Federico Lombardi, a Vatican representative, said in a statement.
Charamsa held a news conference at a restaurant in Rome on Saturday, a change of venue from his original choice — in front of the Vatican. Video of the press conference, held in Italian, is available below. 
According to the Vatican, Charamsa's personal life merits respect but his interview and planned demonstrations were "grave and irresponsible" and subjected the synod to "undue media pressure." 
At the conference, Charamsa said he hopes the pope will be strong and recognize sexual minorities — lesbians, gays, bisexual, transgender and intersex persons — as "sons and daughters of the church." 
Charamsa wanted the church to feel "good Christian pressure" and to see his decision as one to change "a Catholic Church that is homophobic and very difficult and harsh (towards gays)," he said.
Charamsa also suggested the Vatican look into exactly how many LGBT people work for the church. "We can't continue showing contempt and offense towards homosexuals," he said.
The Vatican's decision to fire Charamsa comes both hours before the Synod on the Family and at the tail end of a week of negative press following the pontiff's trip to the United States. 
Kentucky county clerk Kim Davis, who served five days in jail for refusing to issue marriage licenses to same-sex couples, issued a press release through her lawyer Matthew Staver confirming a meeting between the pope and Davis. Staver spun the meeting as an endorsement for Davis's actions. 
On his flight back to Rome, Francis told reporters, "The conscientious objection is a right that is a part of every human right. It is a right." By Friday, however, the Vatican issued a statement saying the meeting with Davis "should not be considered a form of her support of her position." 
Also on Friday, CNN ran an exclusive interview with openly gay Argentinean Yayo Grassi, a former student of Francis's, who met with the pope in Washington, D.C., during his trip. 
Grassi told CNN that he felt the pope was "misled" into meeting with Davis.  "[A]s a human being, he understands all kinds of situations, and he is open to all kinds of people, including those with different sexual characteristics," Grassi told CNN. 
Correction: October 3, 2015, 3:01 p.m. 
This story has been updated to reflect that Charamsa also revealed that he has a partner to an Italian newspaper.